This blog post is part of a series that covers promising fintechs making a difference to underserved communities and supported by the Financial Inclusion Lab accelerator program MSC is a partner to the FI Lab​,​ which is a part of CIIE's Bharat Inclusion Initiative.
---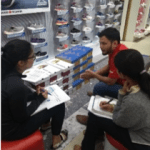 Rajat is a young millennial. His weekends are spent unwinding with friends – leaving him with hardly any funds by the end of the month. Yet, he manages to save in informal rotating savings and credit associations (ROSCAs). Since he aspires to pursue higher education, he seeks investment options that can give him better returns, without much risk. He is considering mutual funds (MFs) but is sceptical due to the risks involved. Can Rajat get expert guidance and the convenience of investing in MFs?
Young Indians with limited incomes need a simple and hassle-free option to invest in MFs – clearing their doubts about risks involved. That's what EasyPlan plans to do.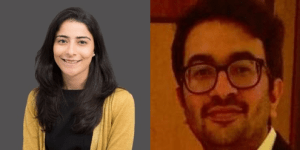 Co-founders, Sanjay Gandhi and Manisha Pandita's partnership dates back to their Harvard University times. Since their undergraduate study, the duo has been working extensively at the intersection of technology and financial services. Sanjay honed his technical skills as a software developer for one of the world's largest high-frequency trading firms. Manisha, on the other hand, learned about diverse customer segments during her stint as deputy global lead for financial services at Dalberg—an international development consulting firm.
In one of her research projects, Manisha realized that current financial products in India do not complement the low-and-middle income (LMI) segment's financial goals such as housing, wedding, etc. LMI customers often rely on informal options, such as ROSCAs, which offer flexibility to save and borrow. Offline chit funds, a kind of ROSCA are inherently risky with the possibility of theft of the principal amount. Moreover, the practice of visiting the ROSCA meet-ups to socialize often come with a significant opportunity cost. All this, when the return offered by many ROSCAs do not even match the investments of time, money, and effort put in by the ROSCA subscribers. "LMI customers need a financial tool which they can customize according to their circumstances. They seek a flexible way to save with the protection of the principal amount, and generate safe and smart returns." – Manisha
EasyPlan can help young Indians in LMI segment save in a smart, simple and digital way – via an app.
The pitch: An easy and flexible savings option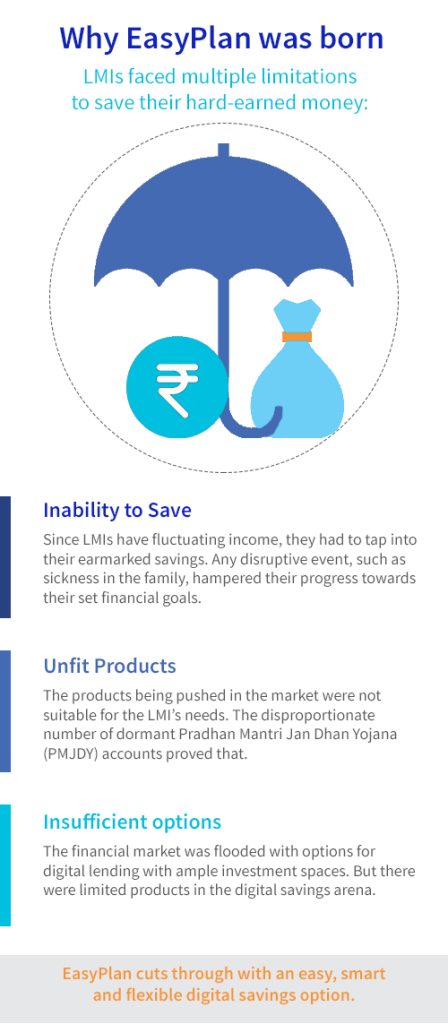 EasyPlan encourages millennials like Rajat to set financial goals based on their needs and save regularly in a hassle-free manner. The app's unique selling proposition (USP) is the flexibility of the product offering, such as the absence of lock-ins, penalties or minimums. Moreover, users can instantly pull their savings back into the bank accounts whenever needed. Starting at just Rs. 100 (USD 1.50), they can skip or change their contribution without incurring any penalty. Apart from all the flexibility of payments and withdrawals, EasyPlan whose product is short term duration debt mutual funds, offers potentially better returns than other formal products and better protection of the principal in comparison to other debt funds.
The evolution: Identifying challenges and overcoming them 
At the clinics, boot camps and diagnostic sessions conducted by Centre for Innovation Incubation and Entrepreneurship (CIIE) and MicroSave Consulting (MSC), the experts mentored the EasyPlan team in crafting their business strategies. As a result, the team gained an in-depth understanding of the Indian financial ecosystem and was able to troubleshoot its business challenges and define its business model.
Building trust in MFs
The participants associated MFs with either a risky, volatile proposition of stock market or something "which is spoken very fast in advertisements" in the form of the mandatory SEBI disclaimer. Moreover, they felt that digital savings lacked a personal touch—a cornerstone of the closely knit ROSCA communities.
Here, education was the key. The Easyplan-MSC team talked to the participants and dispelled their notions about the high risks associated with MFs.   The team also imparted crucial information about MFs to people, including possible higher returns as compared to LIC endowment policy, FD, RD, savings account, etc. They also educated the participants about how the Easyplan app would customize their product offerings according to the aspirations and financial capabilities of the app users.
Selecting the right occupational segment:
The LMI workers have fluctuating incomes and are left with a scarce amount after covering basic costs such as installments for vehicle loans, fuel, and maintenance expenses. As a first step, EasyPlan had to identify the segment that has a relatively stable income so that they can allocate funds for MFs.
MSC conducted primary research in Delhi and Jaipur among LMI segments. Based on the understanding of MFs and product attributes proposed by EasyPlan, it arrived at three probable occupational categories i.e. retail workers, Uber or Ola cab driver-partners, and Zomato or Swiggy delivery boys.
This helped EasyPlan to concretize the product idea, prioritize its features, and understand competition.
The future is 'easy' 
EasyPlan aspires to focus on attracting more customers like Rajat and retaining their existing customers. "Collaborating with more employers and aggregators is one part of this effort. The other part is building a stronger online presence to garner the trust of customers." – Manisha
Finally, EasyPlan will enhance the engagement on the financial product through more behavioral nudges and gamification elements. Stay tuned!
To learn more about EasyPlan, click the video link.
---
Follow #TechForAll and #BuildingForBharat to stay updated on fintech start-ups driven to bridge the social, financial and economic inclusion gap.