"I thought that mobile money is only used to receive and send money. I can now pay electricity bill, make merchant payment, and even pay my vegetable vendor using mobile money. I see many in my neighborhood use mobile to transact. COVID has taught us many things." says Kabita, a mother and a MFS user from Bangladesh.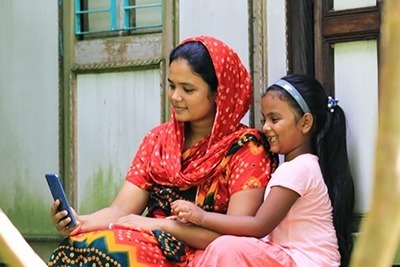 Kabita is 26 years old and a mother of an 8-year-old girl. She graduated from Dhaka University and lives in Louhajong with her in-laws. Her husband Karim works in Saudi Arabia and often sends a significant portion of his earnings to his family as inward remittance, which Kabita withdraws through a local bank branch. Kabita has no trouble receiving the remittance.
Kabita uses a smartphone and is an active Facebook user. She came across bKash, a leading mobile financial service (MFS) provider of Bangladesh, six years ago while exploring easier ways to receive money from her family to pay the university fees. "I downloaded the bKash application on my smartphone earlier this year. It is easy to navigate and I no longer have to visit the local market for airtime recharge," says Kabita.
Born and brought up in the vicinity, Kabita is well known among her neighbors. Women come to her to seek advice and learn how to operate a smartphone or a basic phone, in some cases. They often request her for an airtime recharge using the application. Kabita has become an influencer in her community.
Despite being an advanced smartphone user, she remains oblivious of other mobile financial service providers in Bangladesh. For over a year, Kabita has been receiving quarterly government stipend under the Primary Education Stipend Program (PESP) for her daughter's education through SureCash, another MFS provider. However, when asked about other service offerings of the MFS provider, Kabita was unable to respond. She says, "I am comfortable using one provider and do not know much about others. I do not need to look into any other providers since they offer similar services."
Unfolding the impact of the pandemic
With the onset of COVID-19 and restricted mobility due to subsequent lockdowns in Q2 2020 in Bangladesh, Kabita's life has transformed completely. The government asked people to stay at home at all times, except to purchase essentials, such as food and medicine. Kabita never thought her recent rendezvous with a digital wallet app would become a necessity and a way of life. Digital payments helped her manage her household during the pandemic. Kabita could pay electricity bills, make merchant payments, pay her regular vegetable vendor digitally, and also receive government benefits. Online payments of utility bills, such as electricity bills saw a rise from 5% to 60% during the lockdown in Bangladesh.
Kabita says, "The pandemic changed people's reliance on cash payments. Many of my neighbors resorted to direct money transfers (P2P) as they could not collect the cash physically. Having a bank account with adequate savings helped me during the pandemic." With the government's push toward digital payments and growing concern over cash as a potential vector of COVID-19, people in her community started to appreciate the safety and convenience of digital payments.
Kabita appreciates the various initiatives of the government, such as the digital payments of salaries of ready-made garment (RMG) factory workers, advance disbursement of government benefits, and distribution of COVID-19 relief to 5 million new households. She says many in her community received these benefits through their MFS and bank accounts. This support helped their community build resilience to fight the COVID-19 pandemic. Kabita feels that mobile money is a promising avenue for communities, with the potential to make transactions quicker, cheaper, and safer in the current unprecedented times.
With time, more people prefer to purchase products online and make cashless payments to avoid health risks. Kabita claims this trend further accelerated during the festive season of Eid-ul Azha from June to July, 2020. Merchant payments shot up dramatically by over 400% in July, 2020 over April, 2020.
Key takeaways
While agent and merchant networks continue to grow in Bangladesh, providers must offer a good value proposition to customers like Kabita to sustain this rapid progress in digital payments. The providers also need to align their product offerings, such as digital savings, credit, and insurance, among others, to the needs of the low- and moderate-income (LMI) segment. They may also consider a new category of mobile agents to encourage customers. These mobile agents can encourage the adoption of digital payments and help more customers, especially women, adopt and appreciate their service offerings.
MicroSave Consulting (MSC), with support from MetLife Foundation, has been implementing the i3 Program in Bangladesh and Vietnam since 2018. The i3 Program, which stands for "Innovate, Implement and Impact," works to utilize digital technology and uncover deep insights into the needs, aspirations, and behaviors of low and moderate-income (LMI) people to build and deliver financial services for the mass market. MSC has been working with frontrunners in financial services, from banks to FinTechs and wallet providers to governments, to help LMI segments move toward better financial health by supporting customers like Kabita through demand- and supply-side interventions. We look forward to continued dialogue, learning, and supporting financial inclusion in Bangladesh. Stay tuned for more updates on www.i3program.org