Twenty-eight-year-old Van from Ho Chi Minh city was used to handpicking fish, meat, green vegetables, and other food items at local markets and supermarkets. However, when the government announced a social distancing policy in March 2020 due to COVID-19, she had to gradually limit her purchases to essential food items on the mobile app of a food-delivery FinTech. 
Van is a typical Vietnamese millennial who has almost stopped visiting shops since the social distancing measures were introduced in Vietnam. This behavioral change by customers like her resulted in a rapid increase in traffic in online shopping and digital payment platforms. The total number of transactions of the first quarter of 2021 through the electronic clearing and financial switching system of the Vietnam National Settlement Joint Stock Company (Napas) increased by 103% compared to the same period last year.
Meanwhile, the adoption of e-wallets increased in the country, driven by several factors. These include: 1. an increase in peer-to-peer (P2P) money transfers, bill payments and payment-to-merchant (P2M payments) services for essential items owing to the lockdown; 2. social distancing measures; and 3. an aversion to exchanging physical cash for fear of infection. MoMo, for instance, reached 20 million users as of September, 2020, which represents nearly 100% growth in a year. ZaloPay also recorded a strong growth of 300% from January to August, 2020 through digital money transfers and payments.
While Vietnam managed to contain the COVID-19 pandemic early on, several sectors were hit hard—particularly airlines, tourism, hospitality, and transportation. In addition, early-stage startups have struggled as they depend heavily on access to banks and investors for funding, which has been scarce during these times. 
Curiously, some sectors saw minimal impact from the pandemic or even thrived because of it. These included e-commerce, online food delivery firms, payments wallets, and payments applications. Digital payments and online shopping are expected to shape the "new normal" in the post-COVID era due to restricted mobility and aversion to cash transactions, as mentioned above. 
The impact of COVID-19 on products and business strategies
The demand for digital payment solutions, such as mobile payment, QR code payment, and card payment has increased. It has pushed e-wallet players, such as MoMo, VNPay, Moca (on Grab), ViettelPay, and ZaloPay to widen their QR code presence at merchants, both online and offline, to increase user convenience. For example, in the first quarter of 2021, there were 395  million transactions carried out via mobile phones—an

increase of 78%

compared to the same period in the previous year.

Online shopping services are now offered not only by supermarkets or e-commerce sites but also by mobile apps, such as MoMo, Grab, Now, and ZaloPay as people isolate themselves at home.

Mobile wallet apps, such as ViettelPay, ZaloPay, and MoMo have started pivoting or extending their offerings beyond payment facilities by adding more financial services, such as loan applications and non-life insurance products on their platform. They now also offer many appealing promotions to new users, such as discount vouchers and cash-back offers when they make bill payments including utility, internet, and television services. 

Many FinTech players said that COVID-19 has galvanized the speed of collaboration among them and traditional insurance companies to launch microinsurance products to the market. PVI and MoMo, for instance, launched the Corona++ nano insurance product to serve vulnerable LMI clients.
Why is Vietnam an ideal nurturing ground for the development of super apps?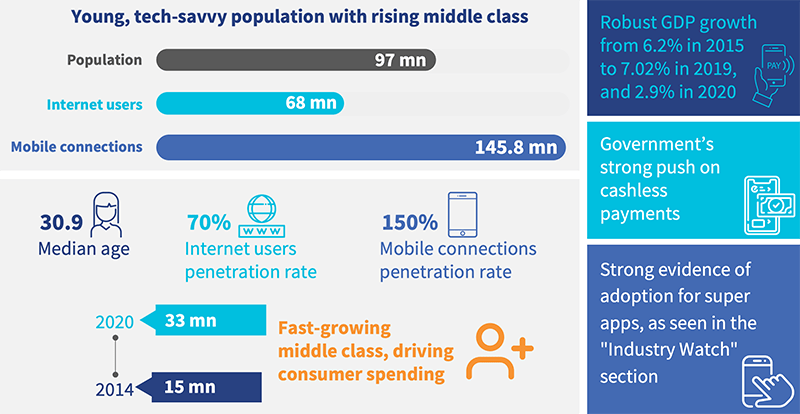 How have the big guys fared? (Industry watch section)

MoMo was officially licensed in 2015 and raised USD 100 million in its Series C funding round from Warburg Pincus in January, 2019. MoMo is the most popular mobile wallet in Vietnam with a fast-growing number of users: from 10 million in 2019 to 20 million in the third quarter of 2020. Recently, MoMo was awarded the "Most-used financial application of 2020" (2020 Vietnam Top 10 Finance Applications by MAU). MoMo's wide network of 100,000 payment acceptance points and 20,000 partners continues to be a solid foundation for its path to becoming the top super app in Vietnam. 

Grab, at a valuation of USD 14 billion, has plans to focus on the Vietnamese and Malaysian markets to grow as a super app. This will be one of Grab's initial steps to dominate the Asian market. Grab accounted for 73% of the market share for ride-share trips completed in the first half of 2019 and has maintained its dominance in Vietnam since then. It expects that 50% of Vietnamese will use Grab by the end of 2020, compared to 25% in 2019. During the ongoing pandemic, Grab has introduced the GrabMart service on its app to enable people to shop essential goods and groceries online. By committing to invest up to USD 500 million in the Vietnam market over the next five years, Grab is definitely the strongest player in the competition.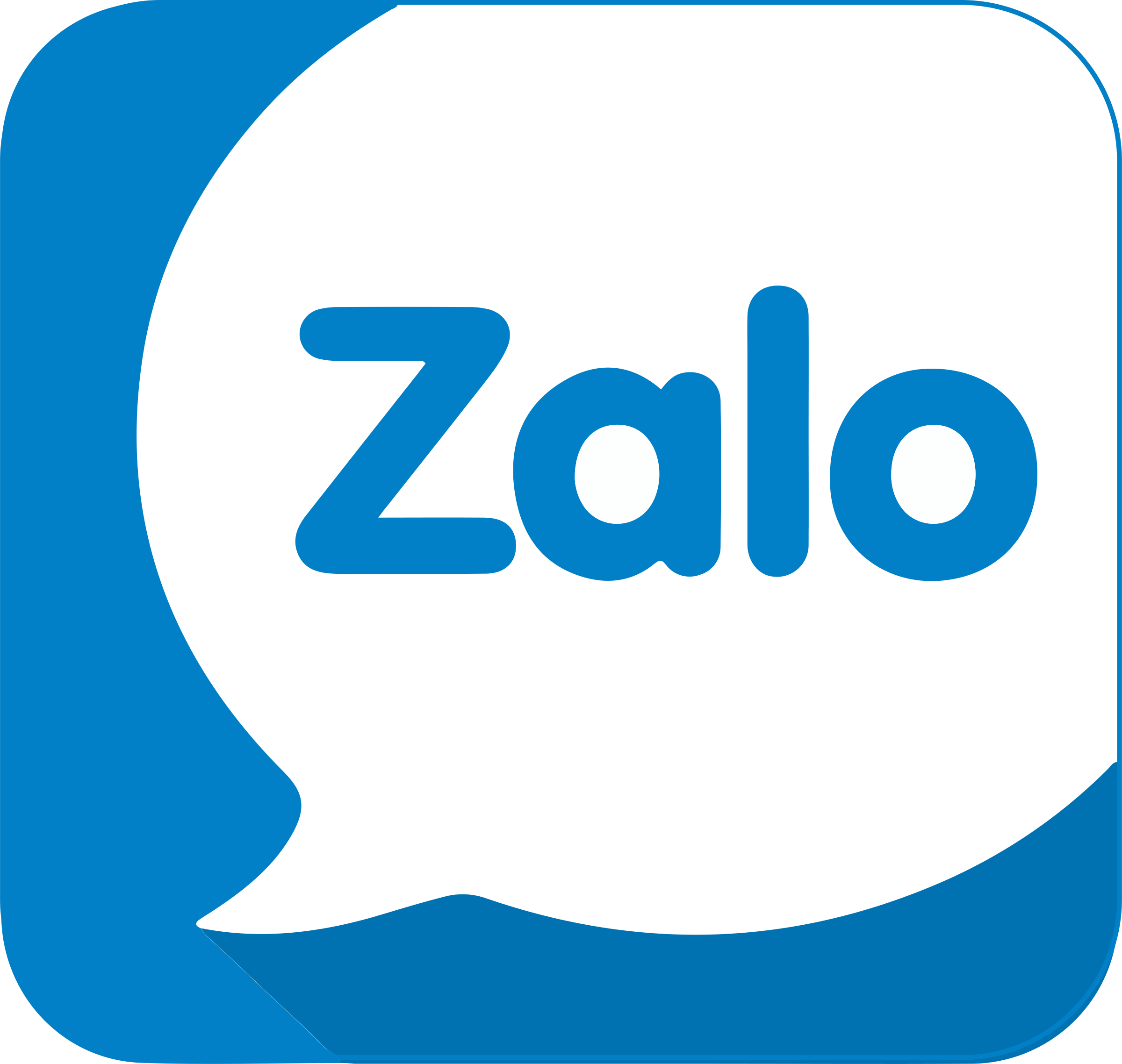 Zalo, the most popular messaging app in Vietnam with 100 million users, has built an e-wallet ZaloPay. For the past three years, with capital support from the only unicorn of Vietnam, VNG Corporation, Zalo plans to follow in the footsteps of its Chinese counterpart, WeChat, and build a super app by riding on the huge user base of its messaging app. The number of transactions on ZaloPay recorded an increase of 300 percent in the first eight months of 2020 after they launched a new feature called "Chatting is Transferring." This feature allows Zalo users to transfer money via ZaloPay when they are chatting with just a few taps on their mobile phone. 

Now is the most popular food delivery service in Vietnam. With approximately 200,000 merchants and partners on their platform Now is one of the most popular delivery applications in Vietnam. The brand is owned by the leading culinary media and restaurant platform in Vietnam, Foody. It received an investment worth USD 64 million from the Singapore-based consumer Internet group Sea, formerly known as Garena, in 2017. The investment intended to help Sea expand its payment platform AirPay (ShopeePay) which launched in Vietnam in 2014. 
Now will benefit greatly from the development of the digital ecosystem under the Sea group across other consumer touchpoints, including gaming (Garena), and Shopee—Vietnam's most popular e-commerce platform. For instance in 2020 Now was integrated to Shopee application to take advantage of 38 million visits per month from Shopee.
The top-four super apps in Vietnam with their most popular services

Vietnam is an attractive market for development of super apps due to high internet penetration and high smartphone ownership. Digital payments and online shopping services provided by the super apps are shaping the new normal in the post-COVID era due to restricted mobility and concerns over the exchange of physical currency. The regulatory sandbox for FinTechs which will be released by the end of this year will foster the development and launching of new services such as digital credit, digital savings, InsurTechs and WealthTechs by super apps.