According to Finscope 2014, it is estimated that 33% of Malawians have access to formal financial services. For any non-urban individual in Malawi, travelling to the nearest bank takes an average of more than an hour and a quarter. By contrast, 50% of adult Malawians have access to a mobile phone, 20% are aware about mobile money, and 4% actually use mobile money account. The high rate of access to mobile phones provides an immense opportunity to Digital Financial Service (DFS) providers to offer a diverse range of formal financial services to unbanked Malawians.
For any customer segment, there can be multiple criteria for availing financial services. While some of the criteria, such as product features, channel accessibility, network connectivity, and usage charges have a certain role in the uptake of DFS, the User Interface (UI) plays a more important role than is envisaged by DFS providers. UI plays an integral part in enhancing customer experience and facilitating regular usage of mobile money wallets.
Globally, DFS providers offer their products and services on different access channels such as Unstructured Supplementary Service Data (USSD), SIM toolkit (STK), Interactive Voice Response (IVR), mobile applications and the internet. In the current scenario, USSD (in addition to mobile applications) is one of the most convenient and best available options for reaching the mass market in a cost-effective way. Preference for any channel, however, varies across geographies depending on key factors such as literacy level of users, service offerings, availability of and accessibility to alternative service providers, and ease of use, among others.
When mobile money was launched in Malawi, customers could access their account only through an STK menu. In 2013, however, a leading mobile money provider started offering its services over USSD as well. MicroSave's market research, funded by UNCDF's Mobile Money for the Poor (MM4P) programme, highlights that contrary to the popular perception, most users in Malawi have a higher preference for the USSD access channel when compared to STK.
This note focuses on key user insights explaining the preference for USSD, which should remain the core focus area for providers while designing the interface of their access channel.
Key Findings
During the course of our study and also working with other providers in Malawi, we noted that self-use of mobile money accounts was common across the country, especially among young people and the working class, more prominently among men. Although agent assisted transactions / over-the-counter (OTC) services in Malawi are commonplace, our research shows that it is not as prevalent as in countries such as Uganda (30%) and Zambia (67%). Most users have learnt how to use mobile money on their own. This, to a large extent, can possibly be attributed to USSD channel's intuitive UI, familiarity with easy-to-interpret menu content and simple navigation through menus. Apart from the UI, there are two more compelling factors which drive the preference for USSD channel among customers:
Past behaviour of users accessing a service on phone, such as self-airtime top-up using USSD channel, results in rapid uptake of mobile money usage;
Robust technology provides positive experience to mobile money users.
It should be noted that unbundled menus are a design feature, and may not actually be an advantage specific to USSD. An unbundled menu may have negative implications as well. For instance, novice and occasional users may find it challenging to navigate to the required option as the probability of a session time-out increases with a more detailed menu.
1. Extension of Status Quo Behaviour
Unlike countries like India, where agents electronically top-up airtime for customers, airtime scratch cards seem to be the most preferred mode of self-top up among Malawi's growing base of mobile subscribers.
These prepaid users, both semi-literate and illiterate, are not only numerate; but are also familiar with the USSD channel which they frequently use for airtime top-up (i.e., they top-up airtime by entering the scratch card number using a USSD short code such as *XXX*1234 1234 1234#). Starting mobile money USSD sessions and entering numeric responses are not new for these users, but rather an extension of their conventional practice for airtime top-ups. Eventually, these users become confident of accessing their mobile money accounts over the USSD channel.
2. Quick Access to Sessions and Fast Response Time
USSD is simple and easy to use. The user dials a short code *XXX#, presses the call button on the mobile phone and starts interacting with the platform. USSD provides fast access to mobile money menus.
USSD is session based and the system's response time between an action point and the user's response is usually fast. In addition, depending on the provider, users have less time during USSD sessions, compared to STK or other UIs, to input their responses and prevent a session drop-out. This, of course, acts as a major deterrent for novice users. Experienced users, however, are familiar with the channel and complete their transactions quickly while using USSD menus. The users also do not need to wait for any text message confirming their transaction status as such communication is received immediately through flash messages.
3. Easy to Recognise Network Downtime
USSD establishes a real-time connection with servers at the back-end and allows true session-based communication. Compared to STK, where users become conscious of network failure at a much later stage after entering responses, USSD users become quickly aware of session drop-outs and hence, can re-initiate the USSD session much earlier than the STK platform.
4. User Friendly Design, Detailed Menu, and Easy Navigation
In multiple blogs, MicroSave has categorised USSD menus as bundled and unbundled. A bundled menu has limited options in the main menu and requires further navigation to explore sub-menu options. The unbundled menu however, is more detailed with a list of various options in the main menu itself. The research found that this detailed menu is commonly preferred by mobile money users in Malawi. The inclination towards USSD is primarily due to the availability of detailed menus and the preferred use-cases being placed at the beginning of the main menu such as money transfer and airtime purchase. This enables users to easily locate their preferred options and complete their transaction without navigating through multiple menus. Furthermore, users find the menu content to be simple, uniform and easy to interpret.
This helps users to complete most transactions with just four to five 'clicks' (See figure 1). Eventually, most users complete their transactions within a minute of initiating the USSD sessions.

It should be noted that unbundled menus are a design feature, and may not actually be an advantage specific to USSD. An unbundled menu may have negative implications as well. For instance, novice and occasional users may find it challenging to navigate to the required option as the probability of a session time-out increases with a more detailed menu.
5. Easy and Consistent Menus for Bill Payments
​Access to electricity is limited to a few Malawians only but it is used extensively wherever available. Paying electricity bills at dedicated bill payment centres, however, is time-taking due to limited availability and inaccessibility. For these users, mostly based in urban/semi-urban locations, paying electricity bills using mobile money service offers much convenience. The fact that there is an option of paying utility bills without prohibitive service charges has also encouraged customers to use their mobile money accounts for such services.
Additionally, users find it easier to navigate other bill payment menus as they find similar sub-menus while paying for television subscriptions and other payments. For instance, to make a bill payment, a user has to select the type of bill payment, select the payee, enter the amount, customer ID and the MPIN as depicted in figure 2.
Conclusion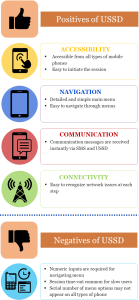 Overall, the research finds that most customers are aware of the convenience associated with mobile money services. This primarily includes storing money to avoid cash holding risk, transferring money on their own, the convenience of airtime top-up and paying utility bills anytime and anywhere, among others. Simplified USSD interface and convenience to use mobile money services are the major factors leading to higher uptake and regular usage of mobile money, reduced dependence on agents for transactions and increased self-usage of mobile money accounts by customers.
So, when most mobile money operators in Malawi continue to invest in furthering their operations, particularly in rural geographies, they should bear in mind that nothing beats the convenience and simplicity of use offered by mobile money as well as realise the importance of user interface in enabling a positive user experience. Fortunately, USSD interface scores high on both these key elements. It may not be incorrect to mention that a positive user experience is likely to define the uptake and success of mobile money in Malawi