The 'tech' revolution depends on internet access
The tech revolution is being heavily promoted as the answer to many of the development challenges with which we have been struggling for so many years. These advanced tech solutions can potentially address pressing issues related to financial, agricultural, educational, health, and enterprise sectors, among others. The vast majority of these advanced tech solutions, however, require connectivity to realise their full potential. They need both access to 3G+ or internet coverage, which is often limited in rural areas, as well as a phone that has unfettered access to the Internet.
Smartphone penetration has been rising – slowly
The past five years have seen a rapid fall in the prices of smartphones. Some of the best deals in Africa are available in Kenya. Here, the average price of a smartphone has more than halved from the KSH 23,100 (USD 270) in 2013 to KSH 9,700 (USD 95) in 2016. The lowest priced X-Tigi P3 smartphone is being sold on the Jumia  e-commerce site for KSH 2,799 (USD 27). In April 2017, The Business Daily reported that "Smartphone penetration in Kenya has grown to more than 60% of the population over the past five years thanks to the influx of affordable phones." It also noted that "smartphone sales were heavily concentrated in urban areas", which is hardly surprising given the 3G+ coverage in the country.
But Kenya is a positive outlier. GSMA predicts that the global mobile internet penetration may only rise from the 2017 level of 43% to 61% by 2025. Unsurprisingly the rates are lower for sub-Saharan Africa, which was at 21% in 2017 and is predicted to rise to 40% by 2025. In India, the rapid rise in smartphone penetration rates are projected to fall quite significantly over the next couple of years – and potentially further beyond (see graph). Once again, the urban areas have now been largely saturated, leaving rural areas with little or no 3+G coverage as the potential market.
Furthermore, there are three critical issues that we should remember in looking at the data:
Penetration rates typically double-count people with more than two SIM cards – and thus overstate the effective penetration rates. (Although, you may argue that if husbands and wives share a mobile internet connection this would result in an understatement).
Inevitably, the more affluent segments of society hold the vast majority of these mobile internet connections.
The data hide significant and troubling gender disparities. In its Mobile Gender Gap 2018 report, the GSMA notes that: "Women in low- and middle-income countries are, on average, 10% less likely to own a mobile phone than men, which translates into 184 million fewer women owning mobile phones. Over 1.2 billion women in low- and middle-income countries do not use mobile internet. Women are, on average, 26% less likely to use mobile internet than men. Even among mobile owners, women are 18% less likely than men to use mobile internet. The gender gap is wider in certain parts of the world. For instance, women in South Asia are 26% less likely to own a mobile than men and 70% less likely to use mobile internet."
Navigating smartphones is not easy
We should also note that smartphones are not as easy or intuitive for low-income segments, and particularly for the oral – illiterate and innumerate people. In the words of the Digital Skills Observatory, "Without the right skills, smartphones can exacerbate adoption challenges, instead of alleviating them … The environment that people discover through their smartphones is controlled by a few powerful organizations who play a big role in the apps and services people use, and shape the way people communicate with one another. Inexperience with this world disrupts confidence in smartphone use and causes confusion about digital identity and content consumption and creation. As people begin to use and explore their devices, apps pre-installed by manufacturers or operators cause uncertainty. Their origin is unclear, their purpose is mysterious, and their permanence is frustrating."
Furthermore, the uptake and use of digital financial services require more than just digital skills to navigate this new world. In addition to ability, users also need awareness, access, and, above all, a real need to stimulate uptake and use. The limited use of basic mobile money services highlights this. The GSMA's State of the Industry Report 2017 notes that of the 690 million registered mobile money accounts across the globe, only 168 million (24%) were 30 day active.
A substantial proportion of growth in penetration will be smart feature phones
But there is a growing body of evidence to suggest that "smart feature phones" (like the X-Tigi P3) will drive a significant proportion of the rises in mobile phone ownership. In its Q1 2018 report, International Data Corporation (IDC) noted that "the smartphone market will continue to grow in Africa … However, sales are unlikely to reach the rates seen a year or two ago now that many urban markets are becoming saturated."
As Jake Kendall and Arunjay Katakam highlight in their excellent blog 'Long Live the Feature Phone', "… the trend is continuing, YoY, the feature phone market was up 11.5%. Feature phones still constitute a significant 62.2% share of the total mobile phone market (from 56% the year before)".
These smart feature phones like the Jiophone in India (see box) drive growth because they address several pain-points experienced by less affluent customers who have tried low-end smartphones. A recent Mozilla report highlighted that low-end smartphones have limited RAM, which prohibits running many fintech apps. In addition, they also typically have hopelessly short battery lives, screens that shatter easily, and a persistent problem with 'fat finger error' that makes them almost unusable. Furthermore, the cost of data needed to make fintech transactions is usually prohibitively expensive. Indeed, in our fieldwork, we have seen some men in Africa proudly carrying prestigious smartphones but using them only to make or receive calls and SMSs.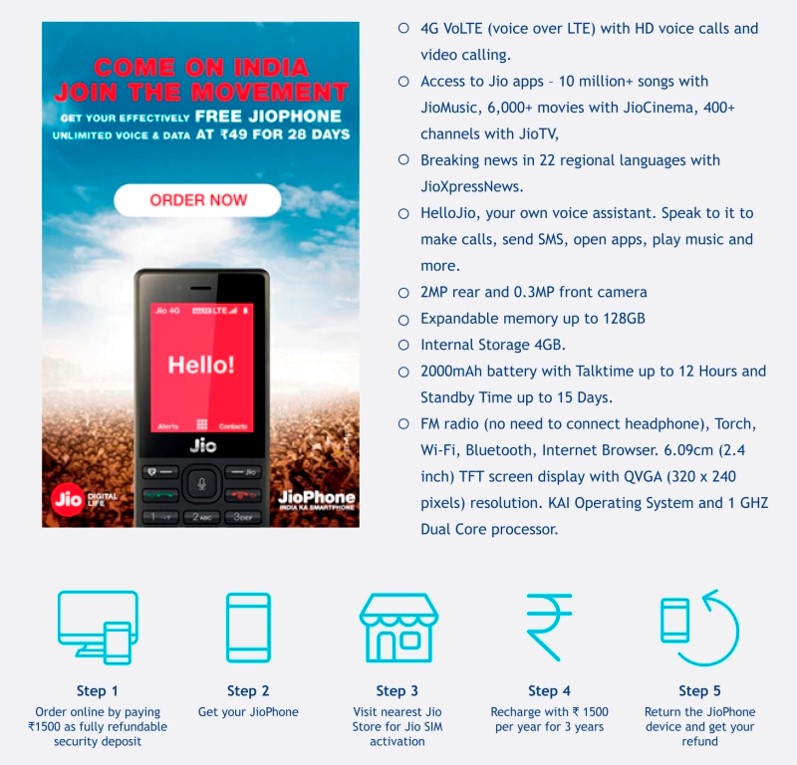 However, as Jake Kendall and Arunjay Katakam point out "Probably the most critical limitation is that feature phones do not have an open app store like smartphones. This dramatically limits the ability of 3rd party developers to create new apps and features that can be deployed on these phones. At present, the feature phone landscape is quite broad: there are more than 1,348 models available from 76 manufacturers. These phones run on a myriad of operating systems including several proprietary ones making it very difficult to write apps for these phones as each app would have to be recoded and customized for each phone."
With even Facebook and WhatsApp rolling back efforts to cater to the feature phone market, it is reasonable to assume that "tech" apps will not be to navigate this challenge … and thus smart feature phones will not be able to run these apps.
So what does this mean for "techs"?
This has significant implications for techs that seek to serve the mass market. Limited mobile internet connectivity has left many digital credit providers relying on minimal top-up and mobile money transaction data to make credit decisions. The results have not been pretty.
Tech providers will need to build systems that use only feature phones such as the MasterCard Lab's 2KUZE which "places the seller and buyer at an open field of interaction, where prices are negotiated, deals sealed and the agent goes to pick the produce, and once it is received, payment is made either in mobile money, cash or bank payment." This could, of course, create a much deeper digital footprint for farmers who regularly use the platform, thus improving the data for credit decisions.
The alternative is a judicious mix, with the more sophisticated transactions conducted at agents with smartphones or tablets located in hubs where 3G+ is available and the basic service transactions conducted using feature phones. In the context of fintech, for example, for several years now, MicroSave has advocated differentiated agent outlets. Differentiation involves:
Relatively sophisticated (usually exclusive and dedicated) sales agentsresponsible for selling products, on-boarding customers, and conducting larger value  transactions; and
Basic (usually non-exclusive and non-dedicated) service agentsresponsible for conducting, typically smaller, cash in and cash out (CICO) transactions.
Sales agents would be based usually in higher footfall market towns, with easier access to both 3G+ coverage and bank branches for rebalancing and support – thus allowing them to manage higher value transactions and sales of sophisticated products. To do so they would use either a smartphone or tablet or both. Basic service agents in more remote villages with only 2G services can conduct basic CICO transactions using feature phones.
Similar approaches can be used for agriculture (see The white spaces of the digital divide: 3G+ haves and have-nots), health, education, enterprise, along with a host of other areas.