At the end of yet another long day, Ventakesh dragged his pushcart piled with unsold flowers from the Gudimalkapur market near Telangana state's capital, Hyderabad, back to his tiny home. He had been anxious about his future since the pandemic set in. Like many street vendors in the market, he wondered if he could restart his business and resume his livelihood in the post-pandemic months. 
Venkatesh struggled to make ends meet during this challenging time with diminishing savings and a meager income. Applying for a personal loan crossed his mind, but the documentation-heavy process, usurious interest rates, and lack of mortgage, among others, dampened this aspiration. Ventakesh is among India's 5 million street vendors whose businesses suffered from the pandemic. Many gave up their business, while others struggled to survive. 
Several FinTechs have tried to solve the problems of this underserved segment. Among them is MAKSPay, a platform under the brand name PehchanPe, which works to revolutionize the borrowing experience of millions like Venkatesh.
Street vendors form an indispensable part of the Indian economy. India's street vendor economy is built upon micro-entrepreneurship and addresses several challenges, including unemployment. The infographic below charts the crucial role street vendors play. 
Fig 1: The street vendor economy's role in India; Source: The ISST
However, most street vendors live hand to mouth, earning less than USD 0.98 (INR 80) daily—way below the Minimum Wage Act. Every day, street vendors in India battle manifold challenges—access to finance is one. 
The government unveiled the PM Street Vendor's Atma Nirbhar Nidhi (PMSY) program to revive and support street vendors. The graphic below mentions some of the program's main features: 
PMSY is a ground-breaking initiative, yet several factors constrain it from achieving its full potential. These include a complex loan application process, low-level awareness among street vendors, and over-dependence on urban local bodies to sanction loans. Moreover, lending institutions in India worry about non-performing assets (NPAs), currently at 12% for PMSY-disbursed loans, as seen in the figure below.
MAKSPay seeks to address these specific issues. This is its story.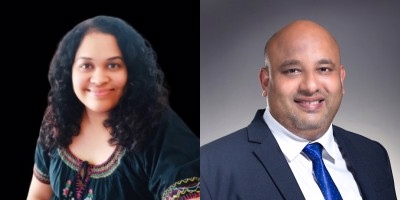 The journey of MAKSPay founders
Shiva and Kavitha, a couple from Hyderabad, saw an opportunity in crisis to support street vendors through MAKSPay. Shiva worked with leading consulting firms across Southeast Asia for years before he returned to India in 2009. Cofounder Kavitha doubles up as MAKSPay's Chief Operating Officer and had worked in banking and credit underwriting with financial institutions in the UK. 
They thought of combining their strength in tech and banking to build something meaningful for marginalized communities. Then the pandemic happened, which served as a watershed moment for them. 
When the government launched PMSY during the subsequent lockdowns, the duo quickly identified gaps and mitigation strategies to act upon. They spoke to a few banking professionals and realized that financial institutions hesitated to lend to street vendors due to the costs involved for low-value loans and associated credit risks. 
They spoke to street vendors through the National Association of Street Vendors of India (NASVI). A common understanding emerged—despite formal credit availability, most street vendors either did not know about the loans or hesitated to apply for loans due to the tedious processes involved. Shiva and Kavitha were confident they could use the PMSY program's Jan Dhan bank account facility to improve the street vendor segment's financial well-being. The duo set up MAKSPay in December 2020 to improve credit access for millions of street vendors, much like Ventakesh. 
MAKSPay officially partnered with AU Small Finance Bank and started disbursing loans under PMSY with support from the Reserve Bank Innovation Hub (RBIH). MAKSPay integrated with the bank's tech stack and digitized the loan disbursement and repayments process. 
MAKSPay developed an app, PehchanPe, to improve the convenience for street vendors, who can use it to apply for loans easily. 
MAKSPay's key features
Digital on-doorstep process

: MAKSPay app uses digital public goods (DPG), such as

DigiLocker

,

NSDL

(for eSign), and facial biometrics, to offer an end-to-end digital lending experience to street vendors. Under the usual process, street vendors need to visit the bank branch for document verification to access credit. Thanks to MAKSPay, they longer need to leave their vending unit to get a loan under PMSY.
Through MAKSPay, street vendors can complete the process digitally by themselves at the place of their choice. Further, MAKSPay's field agents offer handholding support to street vendors who hesitate to use digital platforms independently. The digital process reduces the overall time for credit disbursement from 30 days to potentially under 30 mins. 
Flexible repayment

: MAKSPay and its partner bank's co-branded QR codes are installed at the street vendor's vending unit, linked to their bank account. Street vendors are expected to install QR to accept payments from customers. The installment amount is debited automatically from the bank account linked to the QR. 
MAKSPay's system helps financial institutions, such as banks and NBFCs, to enable quick loan disbursement. It will permit better control and transparency over the street vendors' business and ability to repay loans. 
Digital transactions through QR codes and their use for repayments help street vendors build credit discipline and motivate them to transact digitally. Timely repayment history and digital footprint make street vendors eligible for PMSY and other formal borrowing opportunities.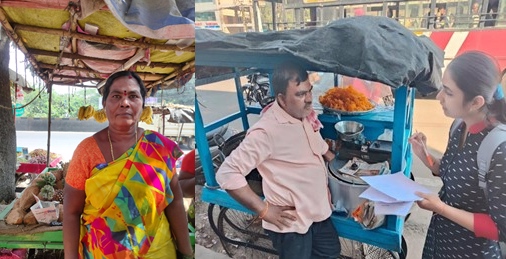 The FI Lab's support
The Lab has offered a holistic support package to MAKSPay. This support ranged from mentor hours and grant capital to field studies led by financial inclusion experts who specialize in consumer and market insights. 
MAKSPay intends to serve as a one-stop financial solution for street vendors. As an initial step, it plans to provide affordable customized insurance for street vendors, for which MSC conducted on-field research in Hyderabad and Lucknow.
MSC assessed the street vendors' awareness of insurance products, willingness to pay, and expectations with the policy cover to design insurance products to fit their needs. We also identified suitable insurance firms that MAKSPay could partner with to offer insurance products. 
The MAKSPay team was keen to streamline its technology offering and sought a nuanced understanding of the on-ground challenges in the lending process. MSC assessed its lending model to map the process alongside stakeholders and identify risks in Jaipur—one of the pilot locations. We suggested a suitable risk mitigation approach based on the risks identified. 
Where is MAKSPay headed? 
MAKSPay intends to emerge as the last-mile technology partner of choice for lenders for PMSY. MAKSPay continues to partner with partners, such as American India Foundation, to further improve its reach among street vendors. 
MAKSPay is on track to scale its operations in the next few months with more banking and NBFC partners in the pipeline. MAKSPay will target and disburse loans to 100,000 street vendors across select pilot locations. It started with Rajasthan and Telangana, which has an overall base of around 800,000 street vendors. Based on the pilot's success, MAKSPay plans to cover eight more cities and target approximately one million street vendors by the end of 2024. 
Credit facilitation is just the tip of the iceberg. MAKSPay has also been working to use India's digital public infrastructure (DPI) foundation-based Open Network for Digital Commerce (ONDC) to enable online selling for street vendors. In the coming days, MAKSPay is all set to improve the financial lives of millions of street vendors, such as Venkatesh, and empower them to be proud self-employed entrepreneurs. 
Battles to win 
MAKSPay partnered with several stakeholders in the pilot phase, such as banks, NBFCs, the NASVI, and payment aggregators. These collaborations call for a lot of coordination and swift iterations at the backend for seamless implementation.  
Yet with its agile tech platform, MAKSPay can customize customer onboarding, loan disbursement, and repayment architecture as required by the financial institutions' lending processes. Such customization aligns with the Reserve Bank of India's digital lending guidelines.