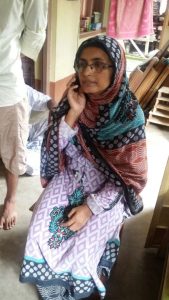 Bilkis Banu sits along with a few of her customers in the veranda of her house and talks to us about the close bond that she shares with them. She was signed up as an agent to offer door-to-door cash deposit and withdrawal services for UCO Bank in February 2012 in Khormachali, a small village in Hooghly district of West Bengal. In her community, women traditionally do not have much say in society and many men are mired in alcohol and gambling. "We have come a long way from the days when these women would hesitate to even talk to anyone associated with a bank", opines Bilkis.
The women customers are vociferous in their support: "We confide in didi (Bilkis) about our household distress. We save with her in absolute trust that our husbands will not come to know about our savings. They can't harass us then to 'snatch away' our money".
Recent MicroSave field studies using the Market Insights for Innovations and Design (MI4ID) approach in Hooghly and 24 Paraganas districts of West Bengal reveal that customer experience does vary, depending on whether the agent is a male or a female
The key insights from our study offer a glimpse of how gender can impact customer experience. These findings also offer important insights for agent network managers.
1. Women agents enhance the communication and comfort level for women customers
Rural communities in India are mostly gender-segregated societies. We learnt that men prefer their wives to transact with woman agents at outlets, particularly when it requires any form of physical interaction between customer and agent – for example, taking the fingerprints of the customer. Similarly, women customers do not like male agents visiting their households to offer doorstep banking services. There is also global evidence of this phenomenon, as many women report that their families may be uncomfortable with their interacting with male agents in other spheres of their lives, such as mobile usage. Thus, women customers feel more comfortable at a female agent's outlet, as compared to a male agent's outlet.
2. Women agents tend to build a "comfortable" transaction environment for their clients
All customers feel that female agents have more patience and are more willing to spend time to address queries or explain the features of a new product. Women customers are willing to share their family's financial requirements and needs more openly with female agents, and thus are able to receive appropriate financial advice from a trusted (female) source. Women customers perceive male agents to be less approachable, and feel that their queries may be perceived as naïve and/or that they may be put in an embarrassing situation. Women customers even reported being turned down, or having their queries ignored, by male agents.
3. Agency business of woman agents is considered an auxiliary source of income for households
Since women are perceived to be more of household custodians than bread-winners, income earned by female agents is considered a supplementary source of income. Many female agents do not receive adequate financial support to run their agency business effectively, since males control family finances.   We observed that most female agents operate out of their houses with minimal branding in the form of display boards or other marketing collateral. On the other hand, their male counterparts are clearly branded and carry out extensive promotional activities.  In our next blog, we discuss why female agents in India also have limited operating hours, and how this acts as an impediment to their DFS business
4. Male agents tend to receive more comprehensive support from the provider3
From the research, it was clear that the female agents were perceived to be less (or less able to be) enterprising than their male counterparts by a majority of their customers. Women agents, who are often not allowed to travel alone outside their village, require help and support from male family members to fulfil some of their business responsibilities. It is easier for male agents to build informal rapport and liaise with bank officials, who, in India, are predominantly male. Service areas assigned to male agents, too, are often larger compared to those allocated to female agents. These factors widen the gap between the agents of separate genders to effectively serve customers on a profitable basis.
Implications for Agent Banking
These insights highlight that female agents add to better customer experience.
It may make sense to on-board women agents while starting the agency business in hitherto untapped areas. This is because, to a large extent, women are considered to be more sincere, disciplined, accountable, responsible, honest, and easy to manage. Furthermore, they are able to build lasting relationships and better bonds with female customers. However,  MicroSave's research into preferences for agents also noted that in areas with security issues, men are preferred.
Particular emphasis should be given to gaining women customers, since the access that women have to formal financial services has been at a lower level than that of men. In rural communities, women often have to resort to saving in secret to prevent male family members from accessing these funds. Women customers may initially need some hand-holding to start transacting regularly.
Women agents are more likely to continue with the agency business, once they start. Male agents tend to migrate to more lucrative economic activity, either within the same area or further away, often leaving the agency business  dormant, either temporarily or permanently. Women agents may address this key issue of agent dormancy, as the income is seen as supplementary rather than core to the household finances
However, providers must be aware that women agents need support, given the inherent challenges that their social position creates for them (see insight #4 above). However, this can build up and capitalise on the natural advantages that women have in rural communities. Similar to women agents in other agency-led businesses, enhanced capacity building and specific training sessions should be devised in order to allow women agents to serve their customers to the fullest, ultimately improving business for the provider. Providers may also introduce different models of liquidity management which may be convenient to women agents – the roving liquidity managers that are so common in Bangladesh may provide an important opportunity in more densely populated areas.
There is a clear opportunity for providers to engage and include more women agents like Bilkis Banu, and make it easier for first-time women customers to adapt to more formal financial channels.
In our next blog, we present findings of another section of this study with a focus on highlighting various enablers and hurdles for women DFS agents in India.
1Elder sister in Hindi
2Afridi, F, Mukhopadhyay, A and Sahoo, S (2015). Female labour force participation and child education in India. ISI E&P unit
3Bank, telco or third party providing the digital financial service