What's up with WhatsApp?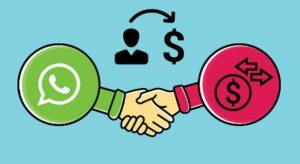 Have you ever wondered about the idea of sending anything other than photos, emojis, videos and web links through popular instant messenger (IM) apps to your friends? Have you ever wanted to send money to a friend instantly when she reminds you about the bill that you were supposed to split, over one of the most popular instant messenger (IM) apps such as WhatsApp? Well, if market speculation is to be believed, then you soon can! You will be able to send money to anyone in your WhatsApp contact list as simply as sending them a message. Facebook-owned WhatsApp, the world's dominant messaging applicationwith over 1.2 billion users, is planning to branch out its messaging service business into the booming digital payments space of India in a few months – says The Ken.
This post attempts to cover the details of this logical, (and necessary?) move by WhatsApp and present how the social messaging app can possibly simplify the user experience while making digital payments in India.
Is there a business case for WhatsApp to launch payments business?
Well, the answer is YES! The idea of WhatsApp is somewhat similar to China's dominant messaging application, WeChat. WeChat, first released in 2011, has flourished due to favourable government regulations as similar foreign messaging apps such as Facebook Messenger and WhatsApp were blocked in China for several years.
With over 700 million active users in China, WeChat is more than just a messaging app – it follows an app-within-an-app model containing over 10 million third-party apps and even allows a company to make an app using the platform. WeChat has built its own wallet which requires users to first add money in it and then use the services or conduct transactions.
What could be driving digital payments for WhatsApp?
Despite impressive active user numbers, WhatsApp still lacks revenue sources. Facebook, which bought WhatsApp for a hefty $19 billion, is yet to figure out a sustainable monetisation model to leverage its massive user base. It is testing tools to use the application to communicate between businesses and individuals, and charge businesses for this service.
Given that WhatsApp has refrained from introducing third-party ads and does not plan to monetise its messaging service for end users, it may strike gold with digital payments in India.
Why India?
Post demonetisation, the government has set a target to achieve 25 billion digital transactions in 2017-18. Further, most mobile wallets companies claimed sharp rise in their user base (in terms of app downloaded), transaction value and volume.
Who's the competition? 
Currently, the mobile payments market in India is dominated by Paytm, Mobikwik and Freecharge, offering a variety of services to the consumers. WhatsApp will need to find the compelling use cases for its users so as to attract and motivate the customers. Considering 200 million Daily Active Users (DAUs), WhatsApp ranks number one (in terms of usage) as compared to its nearest rival, Paytm, which ranks number 22 with 80 million active users. A few months back, Truecaller, partnering with ICICI bank, forayed into financial services and launched a UPI-based mobile payment service called "Truecaller Pay". It allows over 150 million users of Truecaller app to instantly make P2P transactions and recharge their mobile number within the app itself.
Can instant messenger simplify digital payments?
With more than 90% of the smartphone owners having WhatsApp on their phone, using it for 169 minutes a day on an average, WhatsApp can integrate the payments platform and realise the potential of digital payments in India. To start with, IM should leverage the open architecture i.e. UPI and Bharat QR code, and offer at least two basic use-cases, i.e. P2P transfers and merchant payments.
For secure and instant P2P transfers, instant messenger can partner with a bank that has access to the UPI infrastructure. For offline payments at merchant outlets, IM can collaborate with a bank ready to deploy Bharat QR code – world's first inter-operable payment acceptance solution based on QR code. A user can scan the QR code, while in-app, to pay and avoid carrying and physically swiping cards.
An interesting use case with IM would be make in-app payment while chatting. Assume you are chatting with your friends in an IM group and are planning to organise a party, where everyone decides to contribute some amount. Without switching to any other app, you can pay to the organiser in real-time by just entering the amount and your security PIN. This in-app feature of paying while chatting can lead to positive user experience and avoid the inconvenience of logging into other mobile payments apps.
In addition to the above use cases, WhatsApp can extend its services to tap other use-cases such as taxi payments (e.g. Uber or Ola), bill payments (e.g. electricity, water etc.) and ticket bookings among others.

Conclusion
Given their daily active user base, especially among smartphone users, IM apps such as WhatsApp have massive potential to influence the digital behaviour of the users irrespective of their age, groups and affinity to other digital payments solutions. As India continues to leapfrog on the path of digital innovation, it will be interesting to observe how WhatsApp evolves from a messaging app to add features like a payments plus app. Can WhatsApp become the WeChat of India and offer more than just payments? Well, only time will tell, but the next 3-5 years will be exhilarating for the payments space in India.
---
 i UPI allows seamless peer to peer transactions from one bank account to another bank account using only a Virtual Payment Address (VPA) linked to the account and to the user's phone without exposing any other financial identifiers.