This blog post is part of a series that covers promising fintechs making a difference to underserved​ ​communities and supported by the Financial Inclusion Lab accelerator program​. MSC is a partner to the FI Lab​,​ which is a part of CIIE's Bharat Inclusion Initiative.
To meet their basic needs, 70% of the agricultural households in India spend more than what they earn. This pushes them into a vicious cycle of debt – even for basic needs, let alone an emergency. According to reports, a farmer commits suicide every hour in India. In the last two decades, over 300,000 farmers' deaths have been reported. In such grave times, is it possible to give hope to farmers?
Farmers across India need easy access to affordable insurance products that could shield them from economic losses arising due to unforeseen circumstances. 
Jatin Singh came face to face with various farmers during his previous venture Skymet Weather Services, India's first weather forecasting company. It facilitated claim settlements for weather-based crop insurance schemes for private and public insurers. That  is when Jatin felt the lack of insurance penetration among the rural population.
During his research, Jatin realized that the insurance penetration rate in India, representing premiums underwritten as a percentage of gross domestic product (GDP), is 3.69%, – while the global average is 6.13%. The insurance density, or premium per person, stands at $73 in India while the world average is $650. It is imperative to note that less than 20% of all Indians have health insurance and almost 86% of the rural population is still uninsured. Lack of understanding of insurance products and benefits among the low and middle income (LMI) segment has given rise to this situation. On the supply side, most players do not focus on LMI customer segments because of the high distribution and servicing costs involved.
"Most digital insurance solutions focus on "Do-It-Yourself" (DIY)[1] applications and they cater to a segment that has the relevant infrastructure and understand such solutions. Moreover, web aggregators and brick-and-mortar insurance intermediaries mainly deal with urban segments," says Jatin.
With such a disparity, offering suitable and affordable insurance products can help transform the lives of LMI population, particularly in rural areas. GramCover aims to do just that. 
The pitch: Easy access to affordable insurance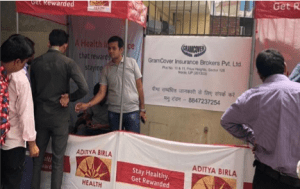 Jatin conceived the idea of GramCover – a rural insurance distribution start-up and Rishabh Garg as well as Dhyanesh Bhatt joined in later as CTO and CEO respectively. The app aims to tap into the unserved markets and offer customized insurance products to LMI customers. GramCover intends to make insurance accessible at affordable rates via a digital platform.
GramCover works with insurers, reinsurers, and risk managers to co-create easy to understand insurance products at affordable prices. These insurance products include life, health, crop, cattle, and motor. Moreover, Rishabh's experience in the lending space for small and medium enterprises (SME) helps GramCover with a "phygital" model – a mix of the digital technology platform and traditional physical brokerage to support the delivery of insurance products to rural consumers and mitigate their risks.
GramCover offers products with the 5 must-haves to design a relevant product for rural customers:
Low premium
Competitive value of the policy
Low turn-around-time (TAT) for claims settlement
Easy documentation
Approach able customer service
The evolution: Information and delivery of insurance
Centre for Innovation Incubation and Entrepreneurship (CIIE), along with MicroSave Consulting (MSC), conducted a boot camp, provided one-to-one mentoring sessions and technical assistance (TA) to GramCover as part of the Financial Inclusion (FI) Lab. It helped GramCover refine their business model and provided alternative solutions to existing roadblocks.
GramCover's primary challenge was to spread awareness about the importance of insurance products, benefits, and claims Moreover, finding the right set of partners to distribute      insurance products was also critical. The most likely partners were microfinance institutions (MFIs), non-governmental organizations (NGOs), or business correspondent network managers (BCNMs), among others.
In addition to the market scoping support, MSC assisted in the production of educational videos that focus on content development to help generate awareness about insurance among rural customers.
The other challenge was to integrate with existing insurers and offer relevant products that cater to the needs of the rural population.
GramCover partnered with existing insurers to achieve scalability in terms of customer base     . In return, the partners availed technology-enabled services from GramCover for better outreach. The app also delighted customers through its cost-efficient, new-age delivery techniques of insurance products.
Driven by the insights from the scoping study, GramCover assessed customer profiles of the organizations. It helped them to analyze the insurance requirements of the customers, the type of channels used to locate them, and the products and features that they currently use,  leading to a significant increase in user adoption of GramCover's digital platform.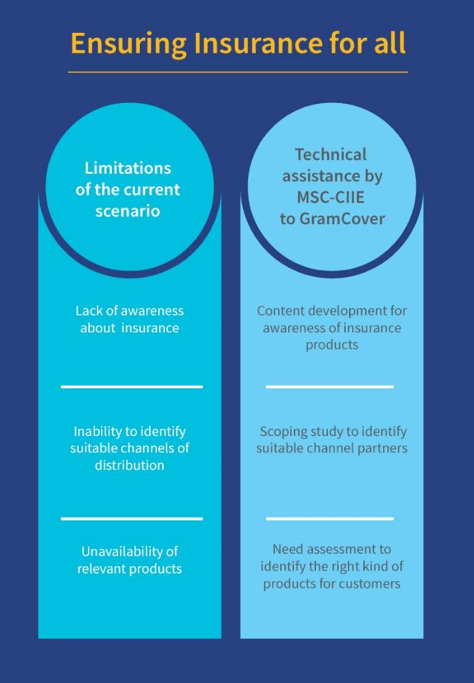 The future is insured
Today, GramCover has enrolled more than 190,000 customers based on their own distribution capabilities. It aims to reach one million policies per year for the LMI segment. It plans to build a network of 25,000 point of sale (POS) locations for customers to understand and purchase policies in the next three years. To meet this demand, it seeks to integrate with at least one major insurer under each category of:
Life insurance
Motor insurance: two-wheelers, four-wheelers, or commercial
Health insurance
GramCover's proprietary algorithms embedded into their tech platform assists the POS to identify the right risk cover for their customers. With customized solutions and inclusive technology, GramCover aspires to build solutions towards de-risking rural India and making insurance affordable for the rural population.
To learn more about GramCover, click the video link
---
[1] DIY applications are simple and user-intuitive applications that are easily understood. These applications can be used by customers without any training or assistance.
Follow #TechForAll and #BuildingForBharat to stay updated on fintech start-ups driven to bridge the social, financial and economic inclusion gap.