This blog post is part of a series that covers promising fintechs making a difference to underserved​ ​communities and supported by the Financial Inclusion Lab accelerator program​. MSC is a partner to the FI Lab​,​ which is a part of CIIE's Bharat Inclusion Initiative.
---
Sanjay owns a kirana (grocery) store in the busy streets of Khar, Mumbai. With over 70 customers visiting his store daily, he struggles to track and update inventory, sales, and purchase records simultaneously, often leaving gaps. Many a time, he realises the shortage of a product, only when a customer asks for it. How can Sanjay monitor his stock to serve his customers?
Kirana store owners like Sanjay need a solution that can integrate book-keeping, inventory and goods on credit given to the customers – while fulfilling customers' demands every time.
India, like its global peers, is witnessing massive growth of large retail formats and e-commerce. This disruption has cast a shadow on the viability of kirana stores. Till now these stores have held their own. But the future may not be easy unless the stores transform the way they conduct business.
Busy grocers like Sanjay seek a solution to tie in their store's back-end data, input items through voice and generate bills for customers. That's where munshiG steps in.
A change-maker by nature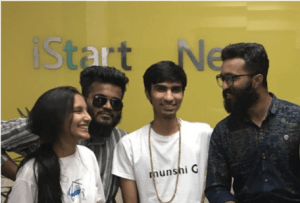 As a young boy living in a small town, Nishant often bought grocery from his regular store next door. But for a few remaining items he always had to wander around different stores in the neighbourhood. It left him wondering if a one-stop solution was ever possible. Now over the years, while smartphones and internet have transformed lives and businesses, the situation in markets back home had not changed much.
Nishant, now an engineer, wanted to finally change this. Could he create something to help shopkeepers manage their store better and more efficiently?
Nishant and his team developed a mobile, voice-enabled, book-keeping application for kirana stores, to deliver convenience and improve daily shopping experiences through technology. Drawing parallels from how his father's munshiji (secretary) simplified his business, Nishant named this solution as munshiG.
The pitch: Create an era of tech-savvy kirana stores
munshiG enables shopkeepers to traverse the digital divide by giving them easy access to technology. By integrating its features into an Android application, munshiG is able to bring a low-cost solution with a technological twist. Moreover, the app can be customized as per a shopkeeper's unique needs, which gives the app an edge.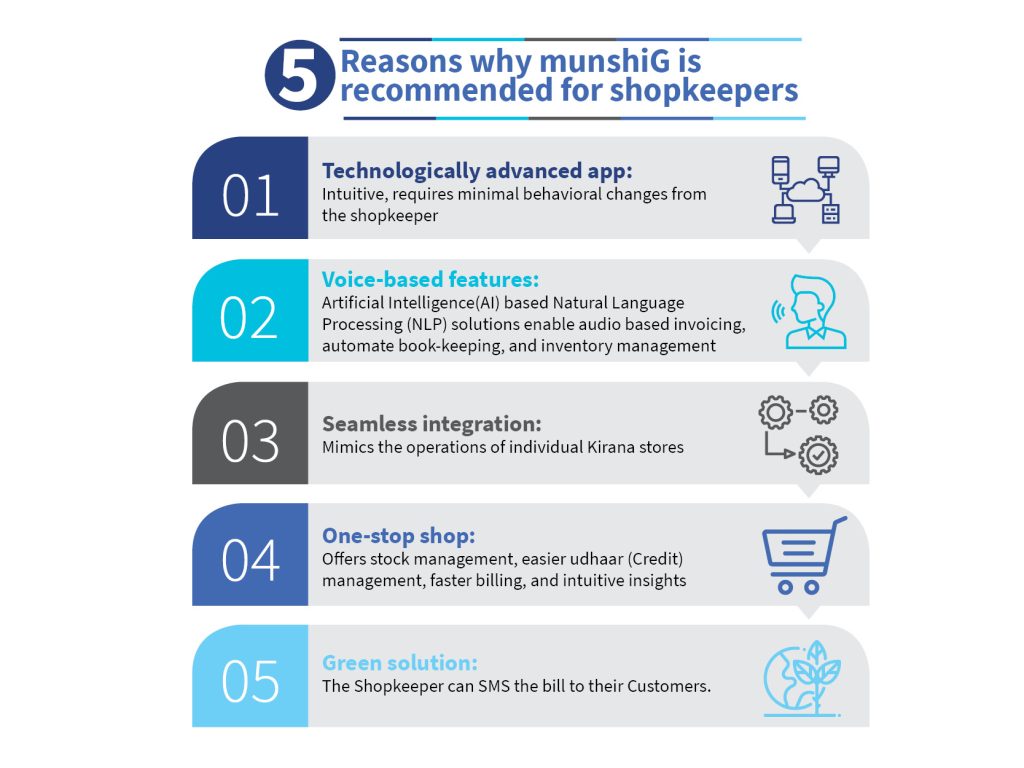 The evolution: Making a difference to customers, storeowners and businesses
 For an app like munshiG which was built to benefit a wide spectrum of kirana store owners, the way forward had several complex challenges.
Getting the voice feature of the app right:  It was a challenge to detect a voice based on individual accents. Moreover, one item had varied verbiage in vernacular languages. For example, onion is called "kanda" in Mumbai and "pyaaz" in Ahmedabad.
Centre for Innovation Incubation and Entrepreneurship (CIIE), along with MicroSave Consulting (MSC), conducted boot camp and diagnostic sessions for munshiG. In the clinics, the subject matter experts guided the munshiG team in building a large repository of common terms and local word variations. With the MSC mentoring, the team improved the engine to decode maximum accents. It also addressed ineffective background noise cancellation.
Replacing shopkeeper's existing software or switching costs:  Tech-savvy shopkeepers had already invested in customised software like Bewo and Tally. They were reluctant to switch to new software because of sunk costs and limited trust in newer technologies. MSC helped munshiG to identify and recruit the right team, which would focus on familiarising the audience with the app.
Ensuring a seamless digital transaction: For small value transactions, customers were not ready to wait for payments or for the bill. Often, it led shopkeepers to skip the app for small-value transactions, particularly during rush hours. This would disrupt inventory management and bookkeeping records for the store.  With support and prototype capital, munshiG could revamp its business model and leverage the right channel partners to enable swifter transactions
Started with a pilot in Udaipur, Rajasthan, munshiG decided to explore operations in Mumbai to achieve scale. With MSC's support, munshiG could identify the target areas in Mumbai, the key attributes needed in the product and the persona of an ideal shopkeeper.
The shopping cart of the future is full
Currently, munshiG is working with 39 kirana stores in Udaipur, Rajasthan. By the end of 2019, the munshiG team aims to expand across 1200 kirana stores in 6 cities.
On the tech front, munshiG plans to upgrade the app through integration with barcode scanners and a better speech recognition engine.
As the business scales up in terms of market adoption, munshiG will leverage the unique insights generated by the kirana stores to partner with Fast Moving Consumer Goods (FMCG) companies offering them data analytics based services.
When every shopkeeper, like Sanjay, will have his own munshiG to address every customer's needs, businesses are bound to flourish.
To learn more about munshiG, click the video link
---
Follow #TechForAll and #BuildingForBharat to stay updated on fintech start-ups driven to bridge the social, financial and economic inclusion gap.