This blog is about a startup under the Financial Inclusion Lab accelerator program, which is supported by some of the largest philanthropic organizations across the world – Bill & Melinda Gates Foundation, J.P. Morgan, Michael & Susan Dell Foundation, MetLife Foundation and Omidyar Network.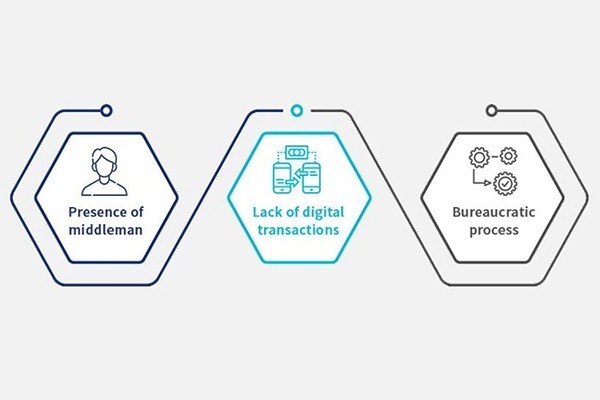 Around the world, small and marginal farmers get a meager share of the overall value created in the agriculture supply chain. This is mainly due to three critical inefficiencies, as highlighted in Figure 1. PayAgri is a platform for farmers that works to overcome them and optimize returns for the farmers. 
The founders of PayAgri, Rajeev J. Kaimal and Rajkumar KVM started their venture based on a strong need for a holistic solution that could improve the economic condition of farmers. They felt that piecemeal solutions are unlikely to create a desired and sustainable impact.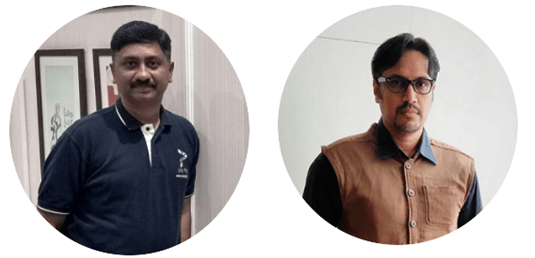 Figure 2: Rajeev J Kaimal and Rajkumar KVM, the founders of PayAgri
Rajkumar is an investment banker who comes from an agricultural family in Theni, Tamil Nadu. Rajeev G. Kaimal worked in the rural banking and financial services space for over 18 years. In 2014, Rajeev became the founding member of Samunnati, a finance company that worked in the dairy value chain. Rajkumar joined later as a consultant to help build products and set up the company's trading division. They saw the plight of small farmers in India as a problem that needed a solution—one they sought in the agricultural space. 
Their shared interest and common passion in agriculture prompted them to conceptualize PayAgri in February, 2017. Its objective is to use technology to create an inclusive economy that takes care of the aspirations of every player in the agriculture value chain without compromising on the interest of farmers.
Connecting farmers to lucrative markets
At present, small and marginal farmers take the smallest share of the consumer's rupee in the entire value chain—under 30%. A large part of that goes to various intermediaries and is absorbed in market (mandi) fees and commissions of the Agricultural Produce Market Committee (APMC) markets (Figure 3). While intermediaries perform a critical role in the value chain, some optimization is necessary to help small and marginal farmers get a larger share of the overall pie. 
Typically, the farmers get fair prices for their grade A produce easily through retail vegetable vendors. Yet they struggle to find a market for grade B and grade C produce. Other factors like delay in payments by traders, non-transparent pricing, and limited technology go against the interest of small and marginal farmers.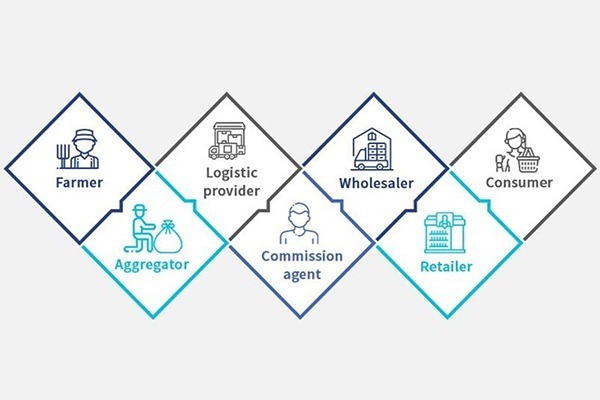 Figure 3: Local supply chain
Rajeev and Rajkumar realized that they could support farmers in terms of both market and financial linkages. Of the two, market linkage has been their current focus as it is easier to achieve and provides immediate relief to farmers. The FI lab supported PayAgri and its registered farmers to help farmers get a better price for their produce. This support also strengthened PayAgri's forward linkages by:
Scoping out the existing purchase practices of vegetable vendors and small hotel owners in and around Chennai; 

Expanding markets for the farmers and providing a better pricing structure for their grade B and grade C produce;

Identifying market avenues for their produce in smaller hotels, roadside eating-outlets, and restaurants and by developing a suitable pricing strategy.
Further, PayAgri constructed a warehouse near the consumption hub to store farmers' produce. Through these strategic steps, they were able to eliminate a few intermediaries and ensure better price realization for the farmers.
In the next round of technical assistance, the FI lab helped PayAgri conduct a baseline assessment to identify potential intervention areas and ascertain the priority to digitalize the Agri value chain in the Nilgiris district of Tamil Nadu. The findings of this study helped PayAgri assess the efficacy of its intervention to help the community to get higher returns on investment from the value chain of root vegetables. The program also initiated a pilot diagnostic study that supported PayAgri to build an impactful medium-term strategy on digitalization.
The impact on small and marginal farmers
Based on the digitalization strategy, most of the interventions from PayAgri fall under different types of linkages, such as: 
Input linkage (directly with input manufacturers)

Financial linkage (access to finance through banks or NBFCs)

Market linkage (directly with institutional buyers) 

Risk mitigation through insurance and

Technical support
The immediate requirement for small and marginal farmers is to facilitate market linkages and to help them to grade, sort, and package their produce. With its agri-hub model running in a few cities, PayAgri has been able to support the farmers in all these areas, resulting in better prices to farmers for their produce. 
With farm-gate procurement followed by grading and sorting, PayAgri offers 10-30% more to farmers, depending on the crop—zucchini, capsicum, carrot, coconut, grains, and fruit, among others. This has been a result of the elimination of intermediaries from the value chain and partnerships with last-mile corporates and other retailers (Figure 4). Until 2019, PayAgri had an impact on over 2,000 farmers in terms of better incomes, through its platform with transaction values totaling over INR 60 million (USD 790K).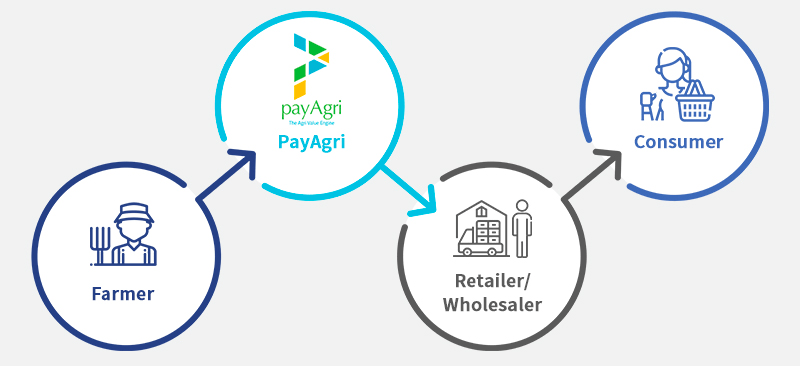 Figure 4: Tech-enabled supply chain
Besides driving market linkages, PayAgri has influenced farmers to improve the soil quality by sourcing organic inputs, which will help the farmers in the long run. PayAgri's plan to provide holistic support and digitalize the entire Agri value chain for such small and marginal farmers will not only bring about reforms and efficiencies into the value chain but also help these small farmers build digital footprints. These digital records will make them creditworthy for the formal lending or banking institutions to lend against.
Roadblocks 
"Working at the ground level is not an easy task", says Rajeev, while speaking of the many hurdles that they encountered in the process. Although the current impact is a good start, PayAgri seeks to scale its operations and make the impact sustainable. Some of the major challenges that PayAgri faced or still faces are:
Convincing the farmers and Farmer Producer Companies (FPC) to work together;

Extensive reliance on cash transaction through the entire value chain, with no recordkeeping; 

Lack of digitized records of farmers that otherwise would have helped them get better access to financial services;

Gaining the farmers' trust to share data remains just as elusive as getting them working capital from formal institutions at reasonable rates of interest.
COVID-19, the unlikely catalyst to PayAgri's success
Due to the current pandemic situation, PayAgri has delayed implementing its long term strategy. However, in general, the pandemic has been a blessing in disguise for the start-up and for the farmers and clients it serves.
PayAgri has been able to find a product-market fit for itself. Since the lockdowns started, the government has permitted the delivery of essential goods and services alone. PayAgri has been quick to respond to this situation, as highlighted in Figure 5, by aligning its logistics and distribution infrastructures to procure essential goods, such as food items. It has obtained licenses to transport and deliver the goods to its customers through its warehouses in Chennai and Theni, Tamil Nadu.

PayAgri has validated its business model by earning sustainable margins and becoming a strong enabler in the agri-supply chain . PayAgri's customers are mostly retail or institutional buyers of farmer produce. They have shortened their pay cycles to PayAgri from a week to a day as they value PayAgri's timely and quality assured deliveries of goods. This has led to improved cash flows for the start-up, which has, in turn, utilized these gains to maintain prompt payment to farmers and mitigated the risk to the farmers' financials. Overall, PayAgri's business model translates to gains for both the supply and demand sides.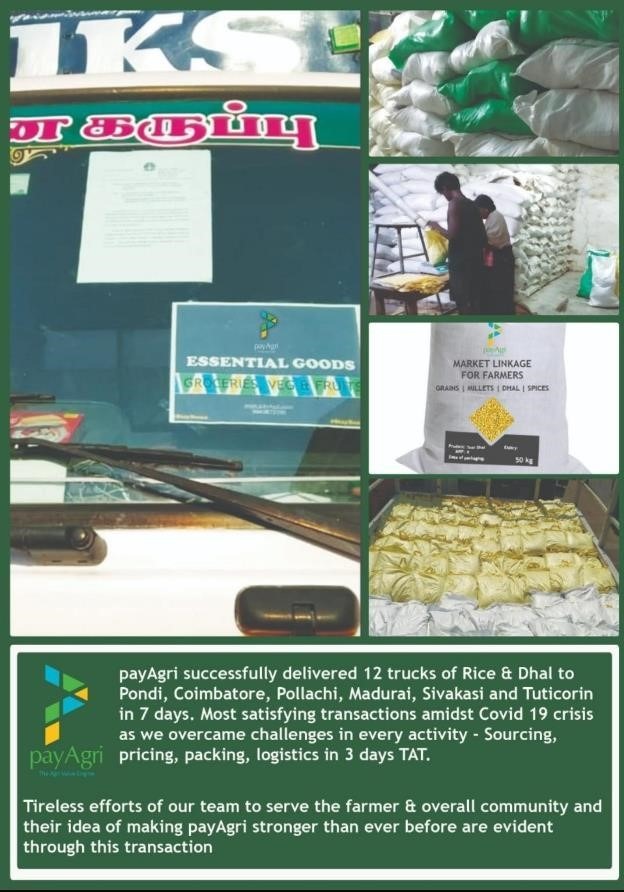 Figure 5:  PayAgri successfully delivered 12 trucks of rice and pulses to six cities in seven days, serving the farmers and the community.
PayAgri has been experimenting with the farm-to-home model and has been piloting deliveries of its warehouse inventory directly to homes while cutting out the intermediaries.

PayAgri has also been trying to scale up. It has started to pilot a franchisee model in Coimbatore, Tamil Nadu. In this model, while PayAgri links the relevant FPOs to the Coimbatore franchisee, the franchisee is responsible for taking care of logistics to procure from FPOs and sell to PayAgri's customers. The franchisee pays a fixed fee to PayAgri per year. Through this franchise model, PayAgri will offload the CAPEX costs to its franchisees and become profitable and scalable in a short span of time.
This blog post is part of a series that covers promising FinTechs that are making a difference to underserved communities. These start-ups receive support from the Financial Inclusion Lab accelerator program. The Lab is a part of CIIE.CO's Bharat Inclusion Initiative and is co-powered by MSC. #TechForAll, #BuildingForBharat