This blog is about a FinTech startup from the Financial Inclusion Lab accelerator program, which receives support from some of the largest philanthropic organizations across the world—the Bill & Melinda Gates Foundation, J.P. Morgan, Michael & Susan Dell Foundation, MetLife Foundation, and Omidyar Network.
Nishit, a young employee at a startup, used to deposit his salary into his savings account. He did not know of any other financial instruments to save or invest elsewhere. However, he is an avid gamer and spends more than INR 1,000 (around USD 14) per month on mobile gaming applications. Many such Gen-Z users in India like Nishit reportedly lack enough savings to meet the needs of their daily consumption but have a habit of paid mobile gaming. They usually deposit their salary in traditional savings accounts that do not yield high interest rates.
India currently has 365 million mobile gamers, with Gen-Z making up a third of the population. The paid mobile gaming sector has gained valuation dramatically in recent years, currently valued at INR 133.59 billion (approximately USD 1.2 billion), thanks to the vast number of gamers. The pandemic also saw people take up mobile gaming to earn money. Some popular mobile games, such as Cricket even offered significant cash-backs for achieving game milestones and time spent on the game.
Fello identified this trend as an opportunity to capture this market with its game-based savings app. 
The light-bulb moment
Shourya and Manish met during an investment talent program and realized that they shared a passion for developing accessible FinTech solutions for Gen-Z. Shourya is a computer engineer with prior experience developing software for FinTechs, while Manish has a technical background with experience in management and finance. They knew of the challenges people from Gen-Z face when they try to use formal investment products for the first time. Their shared passion to solve similar problems drove them to explore ideas together.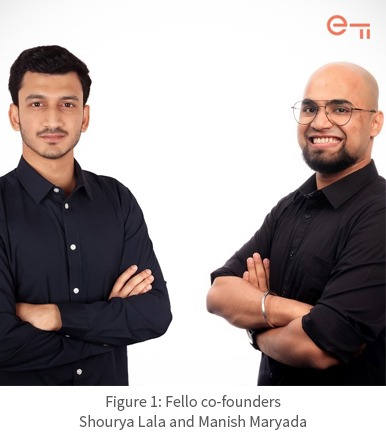 They soon joined hands and conducted quick and dirty market research of their target segment to validate their idea and gauge the customer interest firsthand. This exercise revealed that the respondents were digitally competent, used smartphones for digital transactions, and played paid mobile games. Yet, these users were apprehensive about using digital saving and investment products. 
Manish and Shourya realized that they could make savings and investments fun for first-time users through a game-based savings app. If the app could provide users with an engaging gaming experience, they would be motivated to build a regular savings habit. 
Fello's unique pitch
Fello offers flexible savings and investment products incentivized through popular mobile games, such as Tambola. The app encourages its users to save on its platform at regular intervals and does not impose any lower limit on savings. Users can do small-ticket savings as low as INR 10 (~ USD 0.13) a day. Fello's low limit is explicitly designed for Gen-Z users from the LMI segments who may have an unpredictable and volatile cash inflows and may wish to try investments for the first time. As users save their preferred amount on the app, they receive tokens that they can use to redeem and play games, such as Tambola, plugged-in to the app. This improves the users' experience of saving by making it game-based and therefore engaging.
At the backend, Fello invests these in highly liquid mutual funds, which earn double the interest (5%-6%) compared to a regular savings account in the same duration. Fello also offers its users the option of investing in digital gold. Rewarding users with game tokens nudges them to build a regular savings habit. This helps them build savings for their future and discourages them from spending money on paid gaming apps. 
Fello uses existing technologies, such as UPI and digital wallets, to make digital transactions accessible to its target segment. Fello has partnered with financial institutions, such as ICICI Prudential and Augmont digital gold to offer its customer products with comparatively high returns.
Fello currently onboards users from LMI segments living in tier-1 (major) cities. It works with users from the gig economy who are comfort with digital payments but lack the financial awareness to make active investments in other financial instruments. Fello offers knowledge collaterals on its app in simple, easy-to-understand language to bridge the information gap among its users. It also provides investment calculators and dashboards to improve the visibility of their savings (Figure 2).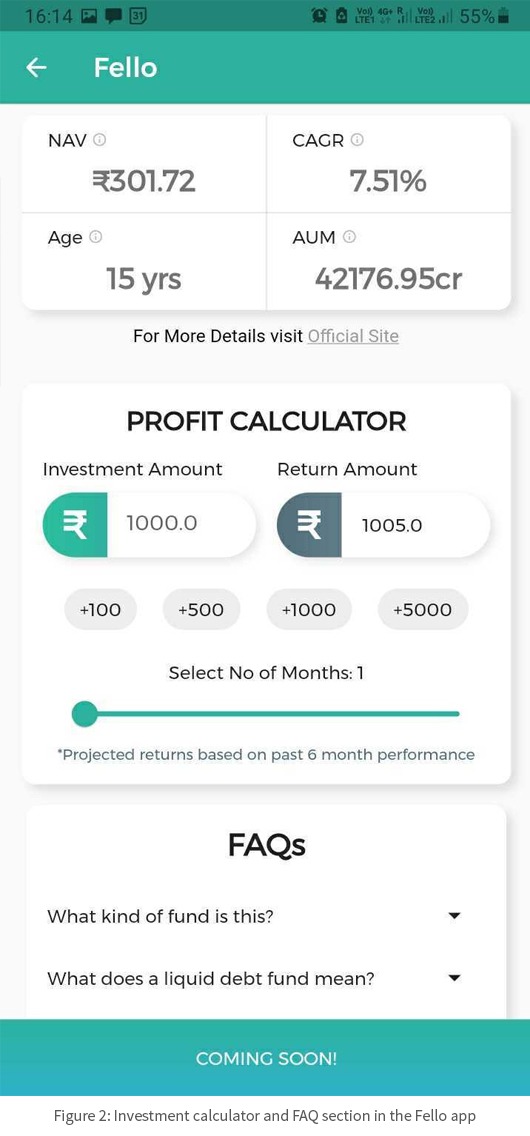 Since its inception in December, 2020, Fello has onboarded 2,000 unique users on its platform, of whom 70% were first-time investors. Most of these users were onboarded through word-of-mouth referrals. These are young individuals with an average age of 24 years, earning between INR 15,000 (~ USD 202) to INR 35,000 (~ USD 471) per month. 
The impact on LMI segments
As stated previously, Fello's users earlier used to save a small portion of their income in their low-yield savings account, which remained stagnant. They would spend INR 100 (~ USD 1.35) on average on each paid online game. However, in most of these cases, they were not winning money back from these betting games and instead got trapped in a vicious cycle of spending money on these games in the hopes of earning rewards. 
With Fello, these users can now save instead of spend while playing mobile games. They also build a regular savings habit and learn about using formal savings and investment tools. 
Fello recognizes the challenges that users from LMI segments face, such as requiring sudden access to cash when their income is disrupted. Therefore, Fello has made it possible for users to invest small amounts of money and immediately withdraw up to 90% of their funds from the app. 
Roadblocks in its journey
Due to the complex nature of the regulatory landscape around alternate investments in India, Fello had to delay its launch to ensure compliance with laws. Being only a few months old, Fello has yet to achieve high visibility in the FinTech space and thus found it challenging to hire employees as it lacked brand visibility. 
Lastly, building a startup during the COVID-19 pandemic came with its own set of challenges. Earlier in 2020, Fello was conducting offline marketing by installing QR codes in cafes and other popular locations during its ideation phase. However, it had to pivot to online marketing strategies during the pandemic and through the multiple subsequent lockdowns.
The FI Lab support
The company faced hurdles while trying to scale up during the pandemic. CIIE.CO and MSC supported Fello by conducting market research in its target geography of tier 2 and tier 3 cities to understand the gaming and savings behavior among the Gen-Z population. We developed go-to-market strategies for the various segments of users identified from the research. Fello will use and implement these in its select geographies to improve its outreach and customer base.
Creating opportunities amid the COVID-19 crisis
Because Fello was launched during the pandemic, it intended to build a COVID-19-resistant solution. Both mutual funds accounts and the gaming industry expanded during the pandemic, and Fello positioned itself in a sweet spot between the two sectors. The inherent idea of game-based savings was validated when Fello witnessed 60% of its first-time users become repeat investors on its platform. 
The path ahead
As part of its mission to make finance easy and fun for Gen-Z, Fello wants to emerge as the first pit stop for young users starting their journey with formal financial products. It expects to support all the financial needs of its users, including savings, investments, and insurance – all through, quite literally, fun and games!
 This blog post is part of a series that covers promising FinTechs that make a difference to underserved communities. These startups receive support from the Financial Inclusion Lab accelerator program. The Lab is a part of CIIE.CO's Bharat Inclusion Initiative and is co-powered by MSC. #TechForAll, #BuildingForBharat