India is home to 73.2 million micro, small, and medium enterprises (MSMEs). MSMEs continue to foster innovation and contribute to India's burgeoning growth. About 88% of these MSMEs belong to the creative industry, see Figure 1.

One of the most versatile subsegments of the creative industry is India's handloom art. Indian handloom weave mirrors the country's rich culture and heritage that dates back more than 2,000 years. The traditional artifacts depict the region's geography, history, and rich culture. From Kani in Kashmir to Kasavu in Kerala, from Gujarati Patola to Manipuri Phanek—every area has a signature weave.
The handloom sector engages about 3.2 million households and provides livelihood to 4.4 million artisans, according to the 2019-20 National Census of Handloom Weavers. However, today, our age-old weaving community struggles for sustenance due to the overwhelming influence of power looms, and the pandemic has further exacerbated the condition.
Over the past few years, many new-age startups and contemporary brands have emerged to revive the ebbing handloom industry and create demand for their products using technology. One such startup is Yes!poho—India's first experience-based social platform that connects artisans and customers directly.
The lightbulb moment
The platform's cofounder Raghuram, fondly known as Raghu, started his entrepreneurial journey early on. He went to the US for his higher education. In parallel, he started working on a commodity trading platform. He wanted to include silk on the trading platform, so he reached out to a friend whose family had business roots in sericulture.
To understand the silk industry and its supply chain, Raghu decided to visit India. He met several silk farmers from different clusters and weavers for the next few weeks. During his stint, he observed the deplorable condition of the handloom weavers. Most of them lived hand to mouth as they earned less than USD 65 (INR 5,000) per month—way below the Minimum Wage Act.
Raghu wanted to buy a few handloom sarees for his friends on his way back to the US. Unfortunately, despite a long commute and detours through several stores, he could not find the sarees of his choice. The unavailability of quality sarees in the cities, coupled with his experience of interacting with the weavers, spurred the lightbulb moment. An idea was born—of a technology-based platform that would connect artisans and customers. It motivated him to take the entrepreneurial plunge yet again.
Raghu started working on the idea. Later, he roped in Meenakshi Dubey, a tech professional with vast experience in customer relationship management, whom he met during a family event. Meenakshi had a similar discouraging shopping experience while buying sarees for her brother's wedding. She could relate to the hassle and agreed to join hands.
With their combined expertise, they began talking to artisans and customers to identify gaps related to access and created a tech-based platform to address those issues. Yes!poho was born in 2015, turning their idea into reality.
The unique pitch: A modern spin to the traditional setup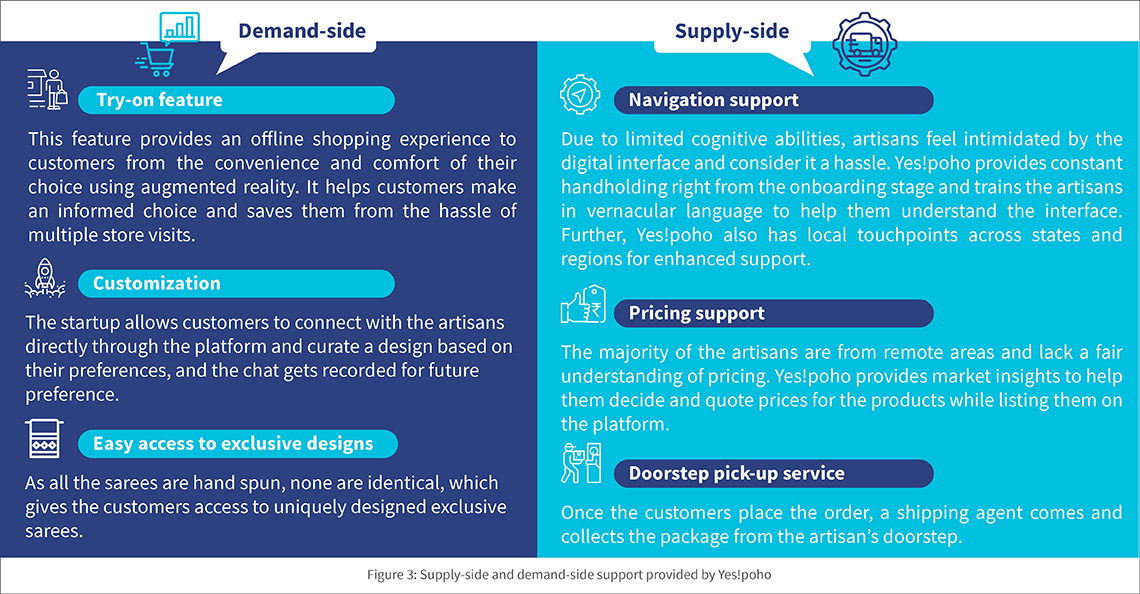 Supply-side transformation
Yes!poho is an experience-based platform that connects the supply-side—the artisans—and the demand-side—the customers—using technology to interact and customize the product. The platform works on an asset-light model. This model puts the onus of inventory management on artisans, who are notified through the weaver-facing interface once customers place an order. Yes!poho has a tie-up with multiple shipping partners across the states in India to collect order consignments from the artisan's doorstep.
To improve digital literacy and capacity building, the startup initiated Yes!poho Institute—an online training program for the artisans associated with its platform. The training focuses on accounting, technology, inventory management, and automation, helping artisans become familiar with the digital interfaces and build financial acumen.
Demand-side innovation
On the demand-front, Yes!poho allows customers to interact with the artisans and customize their sarees based on their preferences. Customers can even buy handloom sarees already listed on the platform.
Are you wondering what is new? The platform offers a unique augmented reality (AR) try-on feature to provide an immersive user experience. The feature helps customers experience the live mockups of the products virtually and make an informed decision, reducing the return rates, which improves profitability for weavers.
Impact on the low- and middle-income group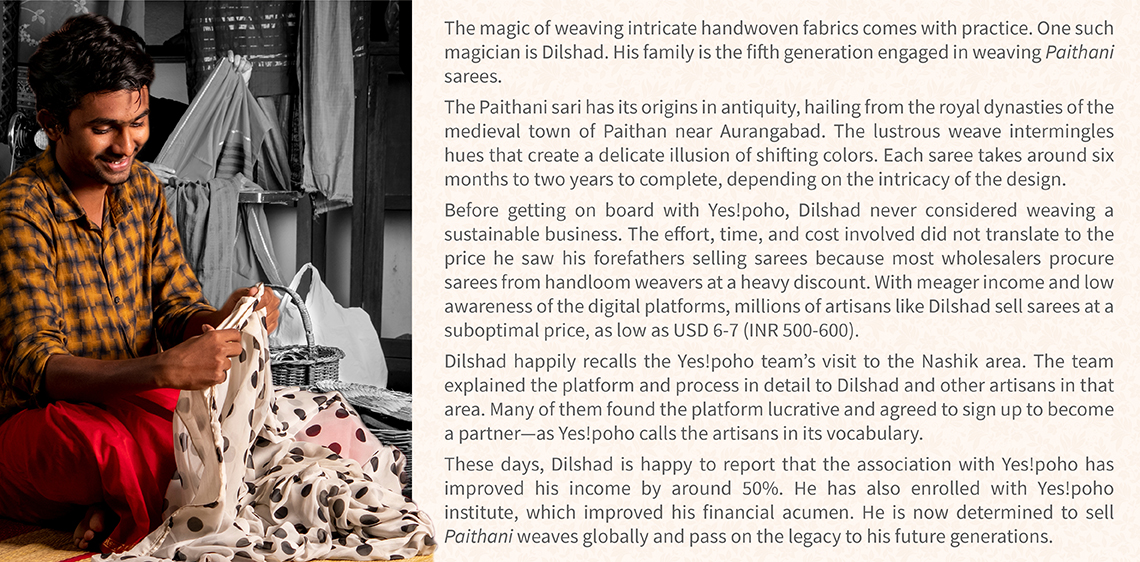 The roadblocks
Like any other startup, Yes!poho faces its fair share of challenges. Most artisans lack digital readiness and fear online platforms for selling due to loss aversion. They generally exhibit status quo bias and hesitate to work with online platforms. They seek social proof from trusted people, such as friends, and in-person meetings to overcome fear, prolonging the process of lead generation and onboarding.
Further, despite the government's efforts to revive the handloom sector through recognition and programs, the sector remains highly fragmented and unorganized. The new-generation artisans do not wish to continue weaving and prefer alternate jobs to ensure consistent cash flows.
Support from the Financial Inclusion (FI) Lab
Through CIIE.CO and MSC, the FI Lab have been helping Yes!poho's business in two phases.
Yes!poho's passion for improving the lives of the artisan community inspired it to seek a nuanced understanding of artisans' pain points and expectations associated with the platform. The primary research across six states helped Yes!poho understand the artisans' needs and gaps in the current artisan-facing interface. MSC also suggested behavioral hooks and game-based setups that Yes!poho can use to expand the artisan base and streamline the lead generation process.
In the ongoing second phase of technical assistance, MSC been helping Yes!poho design better frameworks through a digital performance marketing approach that will improve customer engagement.
MSC plans to conduct a workshop for the startup by hiring external industry experts and in-house digital marketing specialists to help them understand best practices in digital marketing. The workshop will also provide insights on various topics, such as using data to offer curated advertisement messages for different customer segments, crafting a brand story, and tips to streamline the online purchase experience. This workshop will aid their marketing efforts and support sales uptick.
Overall, the FI Lab's advisory support will ensure an agile onboarding experience on the supply side to attract artisans to the platform. On the demand side, it will help build a solid customer base to support artisans by buying their products.
The road ahead
Over the next few years, Yes!poho plans to onboard more than 100,000 artisans to their platform and grow their customer base to 1 million from 0.35 million. The team is ready to foray into other parts of the world and sell Indian weaves. It aspires to become a one-stop shop for artisans that goes beyond demand generation for their handwoven sarees. Yes!poho also plans to offer financial products, such as business credit and insurance, to boost artisan's financial health, motivating many like Dilshad to continue the unique legacy of handloom art.
This blog post is part of a series covering promising FinTechs making a difference in underserved communities. These startups receive support from the Financial Inclusion Lab accelerator program. The Lab is a part of CIIE.CO's Bharat Inclusion Initiative, co-powered by MSC. #TechForAll #BuildingForBharat