Stay-at-home mothers, pensioners, and migrant workers are some of the most vulnerable and underbanked populations across the globe, and in India. As per Findex 2021, 22% of Indians lack an account in any financial institution. Across banks, INR 267 billion (USD 336 billion) have been lying in around 90 million dormant accounts for more than 10 years, as of December 2020. Findex 2021 also reports that India has the highest share of inactive bank accounts globally at 35%. Women account owners in developing countries are, on average, 5% more likely than men to have inactive accounts. However, India leads the gender gap with a 12% difference in account inactivity. The India Post Payments Bank (IPPB) was set up in 2017 as a subsidiary of the Department of Posts (DoP) to address these challenges and provide safe, convenient, digital, and affordable banking services to last-mile customers. While millions of customers are financially included, the top two reasons why Indian adults from remote, rural areas do not use their bank accounts are the long distances from financial institutions and a lack of trust. IPPB intends to address these concerns with its last-mile presence, digital-first approach, and handholding support through its nationwide network of friendly, neighborhood GDSs.
IPPB is perfectly positioned to serve the underbanked in far-flung geographies—where other formal financial institutions have a limited presence. One of its major strengths is its vast network of 160,000-plus Gramin Dak Sevaks (GDS), who offer doorstep banking (DSB) services.
The GDS are highly trusted members of the community. They generally live among the country's underbanked population, especially in remote and rural areas. In addition to the GDSs, IPPB offers 140,000 banking access points, out of which more than 78% are in rural India. With its unprecedented reach and high customer trust in the postal network, IPPB touches households of more than 43.1 million customers.
IPPB addresses the concerns low- and moderate-income (LMI) segments face when accessing formal financial services. These segments include the elderly, women, and the differently-abled. IPPB offers government services, such as digital life certificates (DLCs), G2P payments, Aadhaar updates, and bill payments, improving customer convenience. IPPB has brought 43.1 million customers – 90% of who are from rural areas, into the fold of formal banking services. IPPB can potentially emerge as a one-stop solution across the country with its unique offering of facilitating self-service and an assisted mode of customer onboarding and product usage.
High customer impact
Below are three typical LMI personas that IPPB supports. Besides being low-income, these personas typically remain underserved by other formal financial institutions because they are either not lucrative enough or prove too challenging to serve.

Sarita Devi, a 30 years old homemaker, stays with her in-laws in the Bhiwani district of Haryana. Her husband, Pankaj, works at a construction site in a nearby city and visits her every six months.
The couple recently had a baby girl, who keeps Sarita busy. At the beginning of every month, Pankaj sends her money to cover household expenses via India Post money order. Sarita does not have a bank account as she feels she does not need one. Moreover, the nearest bank branch is almost 15 km from her home, which makes it difficult to visit the branch.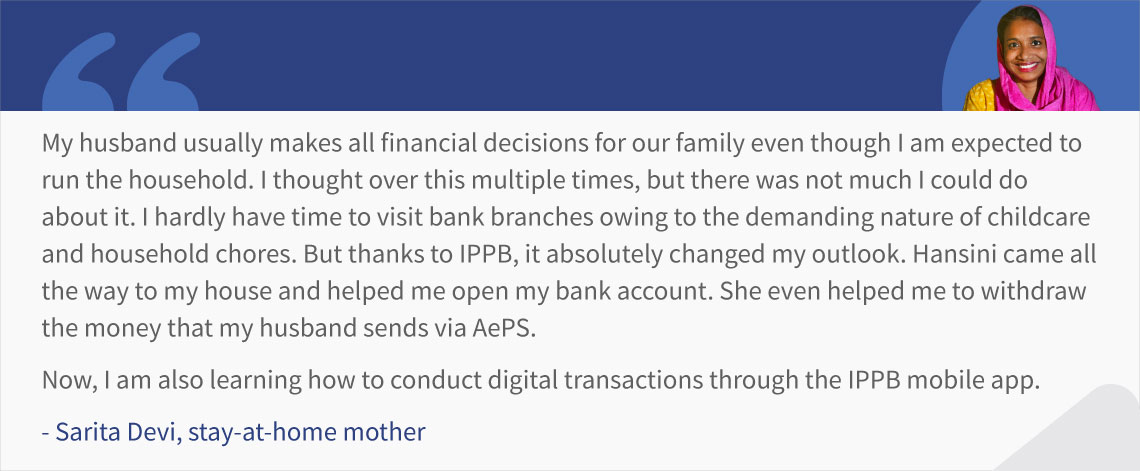 One day, she met Hansini, a friend who works as a GDS in the Bhiwani area, who told Sarita about opening an account with IPPB. Sarita hesitated initially but decided to take the plunge since she trusts Hansini and is comfortable interacting with her. Shortly after, Sarita shared the requisite documents to open her first bank account.
Today, Sarita is confident and has learned to navigate the IPPB app to conduct transactions. She reaches out to Hansini whenever she struggles with payments.
Studies suggest that digital financial transactions have immense potential to empower rural women as they offer them better visibility of their finances, greater privacy, and hassle-free transactions at a place and time convenient for them. Unfortunately, a mere 38% of the women in India use smartphones against 71% of men, which points to a huge gender gap in access to technology—an essential prerequisite for conducting digital transactions.
The situation is dismal for women in rural areas primarily due gendered social norms, low digital literacy, and lack of infrastructure. Further, limited exposure to technology exacerbates the situation and discourages rural women from trying digital transactions. IPPB seeks to bridge this gap through its network of 26,000 women GDSs from the local community, spread across Indian states, to offer DSB services. It makes banking convenient for millions of largely house-bound women like Sarita.

The government's direct benefit transfer (DBT) program to female Jan Dhan account holders during the pandemic made it imperative for women to operate their accounts. While the speed and scale of the cash transfers made by the government were unprecedented, many of these women beneficiaries were first-time account users and feared being duped. IPPB supported women to withdraw their DBT payments through the Aadhaar-enabled Payments System (AePS) at the convenience of their doorstep during the COVID-19 pandemic, minimizing the risk of contracting the virus.
As of April 2022, IPPB has processed more than 4 million DBT transactions valued at INR 25 billion (USD 315 million) for women-owned bank accounts.

Nageshwar Rao is a 56-year-old retired teacher from Jalgaon, a city in the western Indian state of Maharashtra. A few years back, he met with an accident while returning from school that paralyzed his left leg. Nageshwar is doing better today, but needs help to walk. When Nageshwar retired, he visited his nearest pension disbursing agency for his DLC—a mandatory document for receiving a pension in India. However, he did not receive it despite several trips to the agency. His son Ranjan works at a private firm. He would accompany Nageshwar to the agency office and had to take frequent leaves, and thus lost income. One day, Ranjan visited the post office, where a GDS informed him about IPPB's doorstep service. The next day, Ranjan requested the doorstep service—and Nageshwar received his DLC.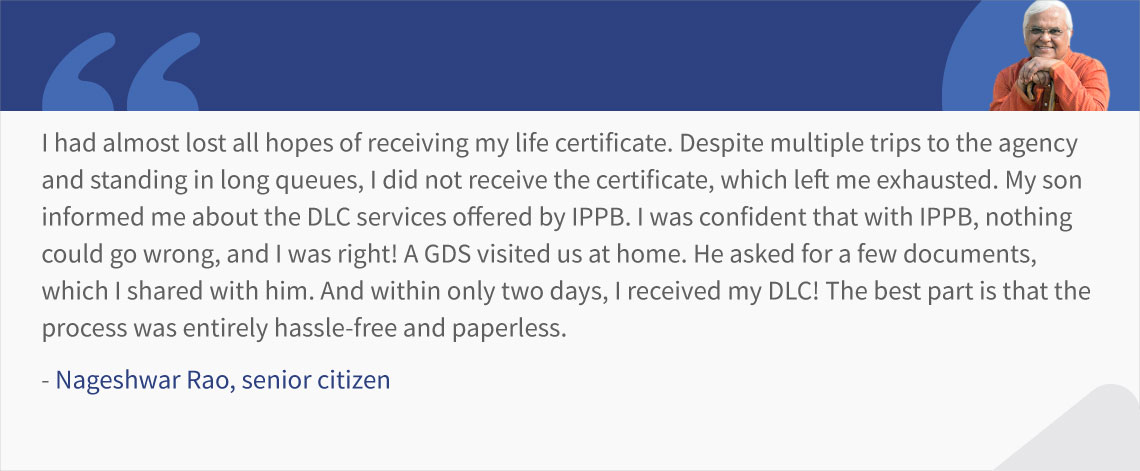 India is home to 6.5 million central government pensioners. Unfortunately, the challenges that Nageshwar faced are a norm not an exception. IPPB's doorstep DLC services revolutionized the banking experience for senior citizens who remain underserved by traditional financial service providers. As of March 2021, IPPB has delivered more than 0.5 million DLCs through DSB services. Fraud and leakage from pension payments decreased by 47% after India transitioned from cash to Aadhaar-enabled payments. AePS transactions helped millions of senior citizens easily withdraw their pension and social benefit transfers during the pandemic.

Sumit Biswas, 32, hails from the Midnapore district in the eastern Indian state of West Bengal. He migrated a hundred kilometers away to the capital city of Kolkata for a job where he worked at a construction site. He lost his job during the COVID-19 pandemic-induced lockdowns and traveled back to his village, much like the 10.6 million other migrant workers in India. Left without an income, Sumit decided to dip into his savings. However, access to the bank was a major issue as the nearest branch was more than one hour away.
The local GDS, Satish, informed Sumit about IPPB's services. Although Sumit did not have an account with IPPB, he could withdraw money from his other bank account via AePS right at his doorstep. Therefore, Sumit could access his savings from his account to fund his day-to-day expenses during the pandemic.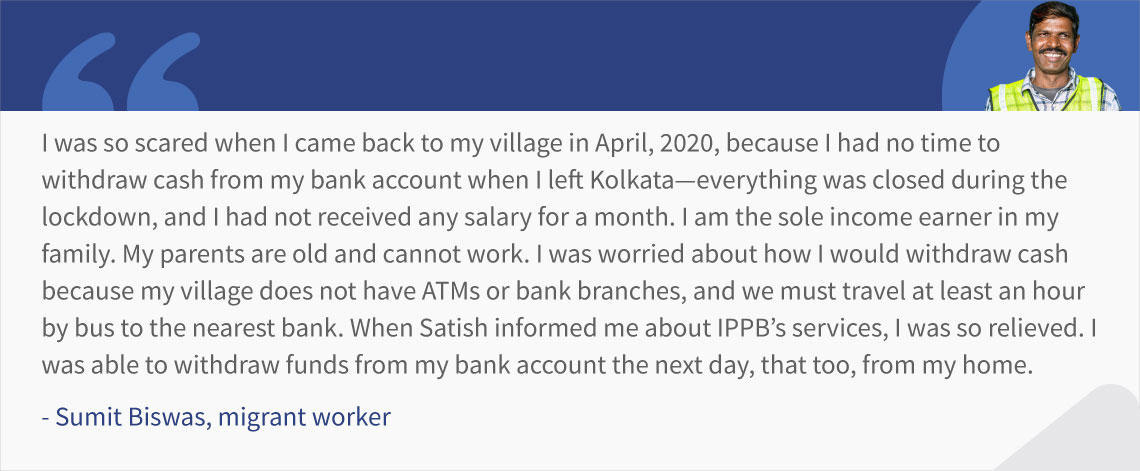 IPPB's AePS service is the country's largest interoperable DSB service provider to both IPPB and non-IPPB customers across the states. Through AePS, IPPB facilitated 25.2 million transactions worth INR 53.62 billion (USD 675 million) during the initial phase of the lockdowns in India. As it grows, IPPB contributes tremendously toward providing last-mile banking services, boosting account opening, and improving account usage. IPPB has immense potential to empower underserved segments to use financial products, such as insurance, credit, and digital credit, through third-party collaborations.
The impact
IPPB has made significant strides in enabling inclusion for those at the margins and continues to transform their banking experience. Its customer-centric approach ensures that the products align with customers' evolving needs, while its digital-first approach provides convenience for the customers. All these features have immense potential to digitally empower millions of customers like Sarita, Sumit, and Nageshwar and support their financial inclusion journey.