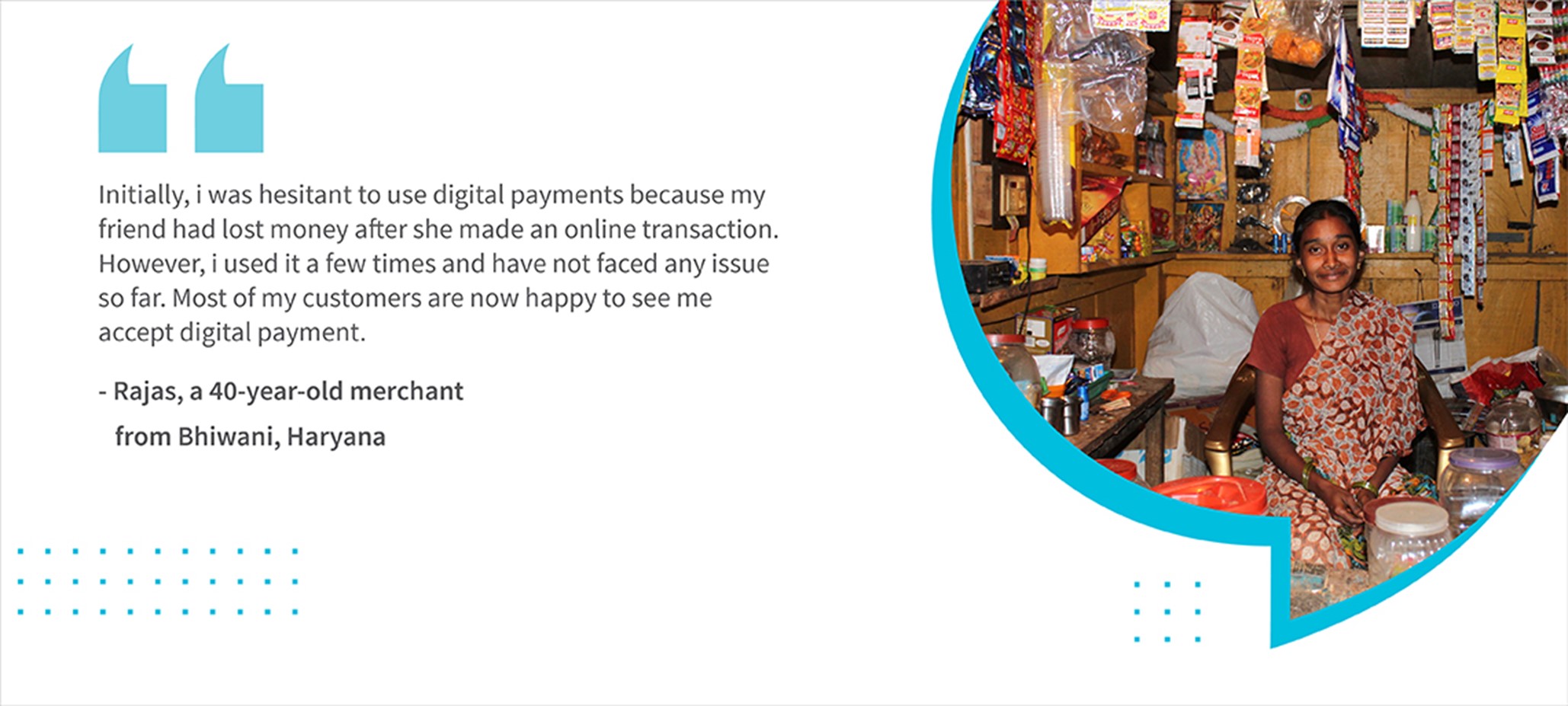 Rajas, a 40-year-old widow, started a grocery shop in Bhiwani in the state of Haryana to earn a regular income after her husband—the sole breadwinner of the family—died five years ago. Her shop caters to 20-30 customers per day with an average daily sale of INR 3,000 (~USD 41). Although most of her customers preferred to pay through cash, her children suggested that she accept digital payments as well since many of her customers find it more convenient.
While Rajas had a smartphone and was fairly comfortable using it, she knew that not many customers had smartphones in her area. She asked her bank about the possibility of accepting digital payments without smartphones and learned about BHIM Aadhaar Pay (BAP). Subsequently, the bank put her in touch with a third-party provider, which onboarded her onto the platform and installed a BAP device in 2019. Since payments through BAP only require Aadhaar and biometrics, it quickly became a convenient payment mode for Rajas and her customers.
Despite being new to this payment mode, Rajas could conduct transactions through BAP and even encouraged her customers to pay through this mode. The COVID-19 pandemic further propelled the adoption of digital payment modes. Many customers turned to their friendly neighborhood Kirana shops to stock up on daily provisions and preferred to transact using digital modes rather than cash. Beneficiaries of government cash transfer programs, migrants, daily wagers, and other informal sector workers are some of the major user segments of BAP that continued to keep the transaction rates high during the pandemic. Small and emerging merchants like Rajas are among millions of micro-merchants who fueled the digital payments growth as they continued to transact digitally post the lockdown.
Just like Rajas, the pandemic changed the way of life for Manak in Chhattisgarh—about 1,300 km away from Haryana.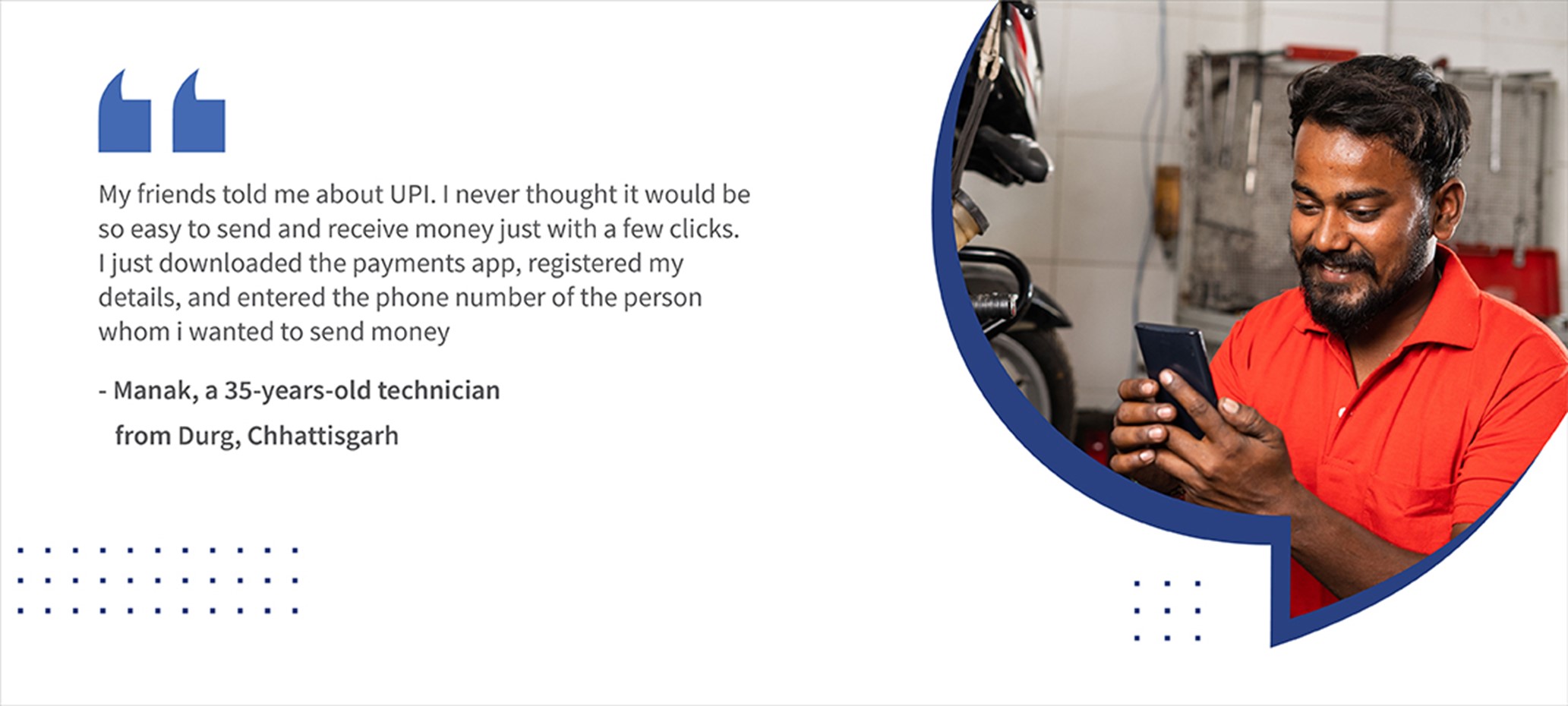 Manak is a 35-year-old technician at a power plant in Durg, Chhattisgarh. Despite receiving his salary directly in his bank account, he used to transact in cash. Due to pandemic-induced restrictions it became difficult for Manak to visit ATMs frequently to withdraw cash. He had very little cash in hand and was unable to buy even the bare essentials for his young family. His friends suggested using a mobile wallet on his smartphone, but he was not comfortable making digital payments as he had never used it before.
Today Manak is an advanced user of digital payments, even though he first started using it during the lockdown. Manak's friends helped him immensely to switch from cash to digital payments. They transferred some money into his account and explained how to use digital payments. Manak began watching videos online to understand how to use mobile wallets and eventually UPI.
Manak is among the 80 million people who adopted digital payments during the pandemic. Restricted mobility and the fear of contracting the virus pushed many like Manak to start using digital payments for the first time.
The growth of digital payments since the pandemic
The changes in the payments landscape induced by the pandemic have altered the outlook of several customer segments. With limited access to ATMs and long queues outside bank branches, COVID-19 brought many first-time users like Manak into the fold of digital payments, and further, onto the path of financial inclusion. Digital payments growth continues to observe an upward trend even though the pandemic continues to subside.  The usage of UPI and QR codes has attracted nearly 150 million users since its inception and became the most common mode for P2P and P2M payments. Transactions made to merchants account for 19% of UPI transactions and have grown in transaction volume by 20% during Q2 2022 as compared to the previous quarter.

Source: National Payments Corporation of India—UPI and BAP Product Statistics
While UPI and QR codes emerged as the frontrunner, BAP also gained popularity in rural areas and semi-urban areas. The usage of BAP soared high as many merchants like Rajas adopted it in rural areas. The average transaction value for BAP increased to INR 2,681 (~USD 33.62) in FY 2021-22 from INR 398 (~USD 5.38) in FY 2017-18 and continues to grow. More than 2.3 million BAP devices have been deployed across the country. As with UPI and BAP, other digital modes, such as BBPS and AePS have also gained significant pandemic-driven usage. AePS transactions grew by 88% over the past financial years from 2018-20. Largely these payments were made by LMI customers who typically lack conducive infrastructure and require handholding support to conduct digital payments.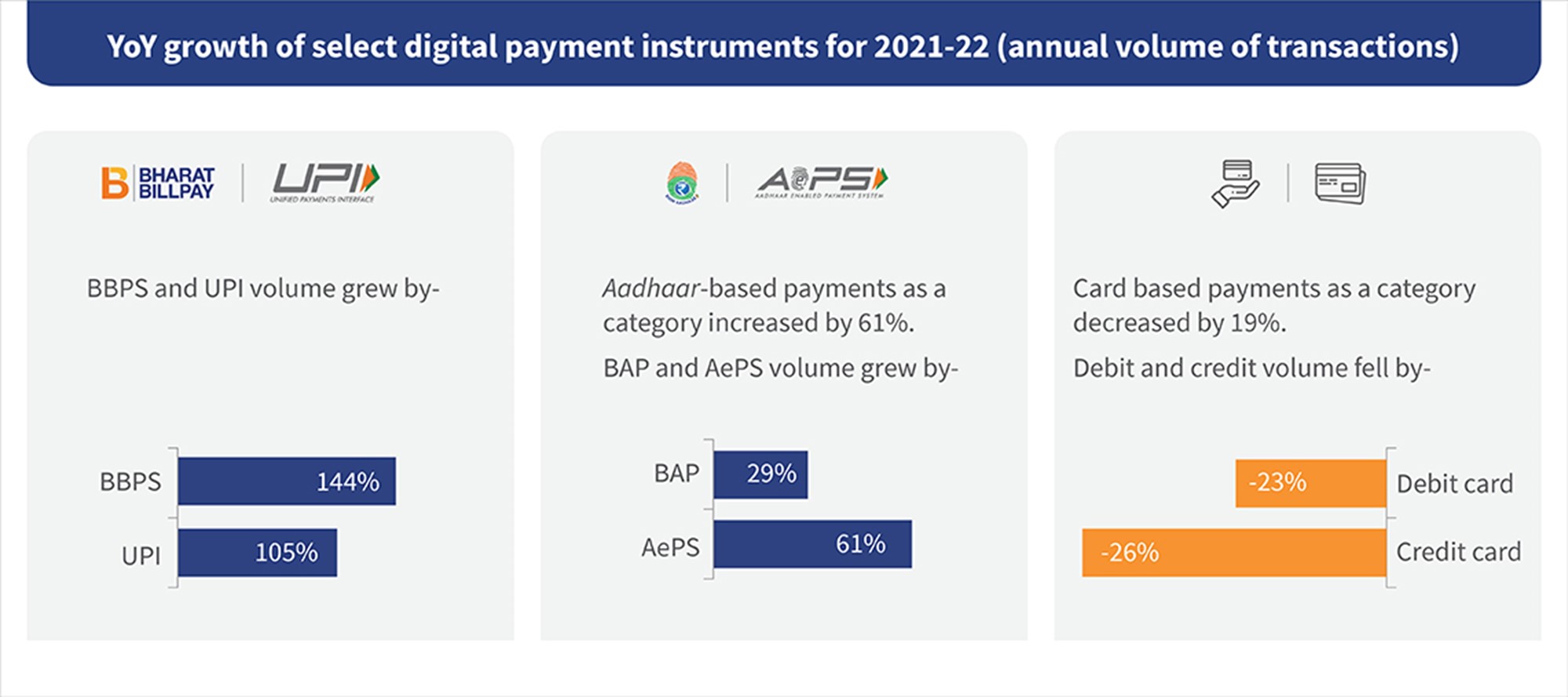 The growth is also a direct result of the relief funds disbursed by the government to support citizens during the pandemic. These payments were largely made to vulnerable rural and semi-urban households. Although the growth of payments through cards as a category decreased by 25%, the market share of RuPay in total debit cards issued increased.
COVID-19 boosts digital payments uptake but usage of cash persists

Source: RBI – Money supply data   
Despite the growth in digital payments in 2022 we observed that cash and digital payments continued to coexist and grow throughout the year, as consumers sought both the contactless safety of digital payments and the convenience of cash. While the value of non-cash payments in India has increased steadily since 2007, cash transactions still dwarf the alternatives. Most customers are oblivious to the fact that cash handling incurs several tangible and intangible costs, such as waiting time, transaction charges, cost of transit, and the effort involved to access cash, among others.
Way forward to improve the adoption of digital payments
The pandemic has created a positive impact on the attitudes of both merchants and their customers to digital payments. Customers like Manak are now keen to use digital modes owing to the convenience and abundance of options available. Meanwhile, merchants like Rajas are ready to explore and adopt other modes of digital payments to offer ease and convenience to their customers.
Today, India is one of the leading countries in the world when it comes to the adoption of digital payments. Digital payments adoption has grown multifold from meager 8% penetration around a decade ago. It is all set to grow to 58% by 2025.  Financial service providers (FSPs), government, and infrastructure providers have made concerted efforts to increase usage across all user groups. However, despite the tremendous potential to digitize the existing cash-based transactions in the country, we are still a long way from the ubiquitous use of digital payments. In our next blog , we unpack this huge untapped opportunity for FSPs to digitize payments in India and also highlight a few challenges that need to be resolved to tap the opportunities available.