Ishwar Sharma, the only bread earner in his family, runs a small café in a town in northern India. Meanwhile, Alus, a mother of two, runs a small grocery store in Central Java, Indonesia.
The COVID-19 pandemic and the "economic pandemic" that followed have brought Ishwar and Alus to the same point. These misfortunes had hit the businesses of both micro-entrepreneurs badly.
In Ishwar's case, people become reluctant to buy his food and beverage due to health concerns, as he prepares the items he sells onsite. His troubles were compounded by the prolonged closure of businesses during lockdowns, which translated to fewer customers, alongside new competition from the reverse-migration by people returning from the cities who set up small cafes in his neighborhood.
As for Alus, her customers—mostly local farmers—became cash-strapped due to the significant drop in crop prices. Furthermore, the prices for basic groceries have surged during the pandemic (for instance, the price for cooking oil jumped 33% higher), and Alus' customers had to either limit their purchase or pay for their groceries later. 
Both micro-entrepreneurs are, however, striving to keep their businesses afloat.
MSC's research on the impact of COVID-19 on MSMEs in India indicates that 73% of the businesses surveyed had reported a decrease in customer footfall. Meanwhile, three-fourths of the enterprises reported a decline in income. Meanwhile in Indonesia, 79% of MSMEs surveyed reported a drop in sales volume by a median of 50%; and 51% reported that they kept operating as usual but the overall number of customers per day had decreased by a median of 50%.  
From October, 2020, MSC started to track the daily financial life of 25 corner shops each from India and Indonesia using the Financial Diaries methodology. We have collaborated with the social enterprise Low-Income Financial Transformation (L-IFT), to track the daily financial transaction of corner shops. These corner shops are small retail businesses located in neighborhoods that sell daily needs products and provide essential services.
The daily financial data of these shops generate intriguing insights into how these corner shops are in the process of recovering from the COVID-19 pandemic and the challenges they face.
In this blog, we discuss five insights from the early data of this research. 
In India, owners of the small daily provisions store have become risk-averse and restricted their ambition.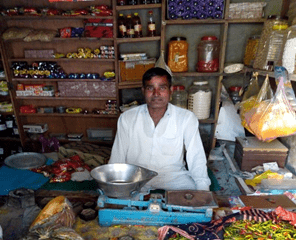 Varun Singh, father of two teenagers, runs a small daily necessities store in the north-west part of India. He mentioned during the interviews that his monthly gross income was INR 15,000 (USD 206) per month before the pandemic, which dropped to INR 8,000 (USD 110) per month during the pandemic.
The data that we collected in the past two months of 2020  indicates that he is yet to attain his pre-COVID level of business (see Graph 1).
Graph 1
Varun has been running his small shop from home although he wanted to buy or rent a shop in the market area. Despite difficulties, he wanted to grow his business. Yet the financial and health-related risks related to the pandemic have convinced him to postpone his planned expansion and continue operating from the current location. 
Many corner shop owners in our sample also think along similar lines. Even though customer footfall has returned to normal, they are buying less compared to pre-COVID-19 times. Hence even if the income of the shops has picked up gradually, is still not what it used to be.
The financial stress and the experience of losing near and dear ones have made the corner shop owners risk-averse. 
In Indonesia, many corner shops managed to maintain their regular income during the pandemic. For some, the pandemic helped to increase revenue.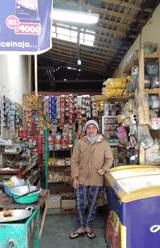 Hening, a young mother of two, runs a corner shop in Central Java. She sells staple foods, cooking oil, snacks, sweets, tobacco and cigarette, medicine, gas, and toys. She could maintain her usual sales revenue even during the pandemic (an average of IDR 30 million or USD 2,146 per month). 
The data from the Diaries (Graph 2) indicates that Hening's average monthly gross income is IDR 29 million (USD 2,074). It shows a drop in November, 2020 (Week 7) but only because Hening had to close her shop for around two weeks to help with some wedding events.
The revenue of Hening's shop was soon back to normal—and even increasing—once she returned to the business (see Graph 2). 
Hening has maintained her sales revenue during the pandemic by using some simple strategies. For instance, she stopped selling airtime as many of her customers often pretend they didn't receive the top-up so they can refuse to pay –forcing Hening to cover the cost herself. As Indonesia did not restrict shop operational hours, Hening also kept her usual opening hours, that is, 6 am to 9 pm daily during the lockdowns. She also implemented hygiene protocols when the pandemic was at its peak by providing hand sanitizer outside the shop for customers' use to make them feel safe.
Moreover, Hening has started to prepare better budgeting for her business and personal finance. She also uses her business data to map her income and expenses better and also allocated some money for saving. 
Graph 2
Many corner shops in our sample adopted several simple strategies. These included following health protocols to make customers feel safe, prolonging operational hours to increase customer footfall, and reducing the number of staff members. The corner shops also adjusted their product or service mix to sell items in high demand or commanding a higher market price and stopped the sale of unprofitable or less-profitable items.
The strategies have helped corner shops to maintain their income or even make more profit than in earlier years.
Corner shop owners are beginning to think digital.
In India, multiple corner shop owners, such as medicine shops, barbers, and cafés, among others, told us during interviews that they have started to accept digital payments, most commonly from PhonePe or Google Pay from clients during the pandemic. This phenomenon is mostly observed among younger diarists. We have also seen the use of messenger apps and social media to market products and services. Some diarists have also started to accept orders from regular customers through WhatsApp. 
In Indonesia, we found multiple diarists using their WhatsApp and Facebook accounts to promote their business; mostly to generate awareness among customers about any new product or service they have started to sell. We also found that the micro-entrepreneurs use WhatsApp to communicate with suppliers. Some diarists use e-commerce sites, such as Shopee, Tokopedia, or Bukalapak to buy stocks at cheaper rates and sell specific products, such as plastic furniture. Only two of our diarists use digital payments to settle bills through ShopeePay, and pay suppliers and accept payments from customers through OVO and LinkAja. However, this had been their practice for a couple of years before the pandemic.
Many diarists were interested in using e-commerce in the future. Yet juggling between the brick-and-mortar shop and the online store requires time and energy. They also have concerns about the cost of internet data; hence they have become reluctant. 
CICO agents in India saw increasing footfall but declining income during the lockdowns. 
Our sample from India has three dedicated CICO agents and all of them mentioned that the pandemic has hit their businesses. These three CICO agents reported the total monthly net income of INR 38,000 (USD 521) before the pandemic, which fell by 24% to INR 29,000 (USD 398) during the pandemic.
The four major reasons for the decline in income are: 
Reverse migration, which has decreased remittance; 

Most withdrawals were small in value, which increased footfall but not income; 

Worrying about cash crunch during lockdowns, many people withdrew their savings through the BC agents, thus creating liquidity issues for the agents; 

Owing to mobility restrictions, agents could not travel to rebalance their liquidity, which also hampered the business. 
Graph 3
However, the business has picked up now. Graph 3 shows the average monthly income of INR 40,108 (USD 550), which is similar to pre-COVID-19 times.
Women who own corner shops have faced unique challenges during the pandemic.
Social norms and caregiver responsibilities created an extra set of challenges for women who own corner shops. As traditional gender roles are still prevalent, we observed our women diarists struggle to manage their unpaid work at home and responsibilities at the shop.
One respondent from Indonesia mentioned that as schools are closed and children are at home, she struggled to manage her shop and the children. For another respondent, the extra pressure of earning for the household, since her husband lost his job, and fulfilling her duties as the caregiver made her life very stressful.
In India, a few women-owned enterprises reported that their husbands used to help them for tasks where mobility is required, such as withdrawing cash, repairing business assets, and buying supplies, among others. Yet the COVID-19 pandemic posed a challenge as their husbands had to work harder to earn money and could not help at their wife's business. 
To conclude, we highlight that financial conditions and the adoption of digital means are dynamic processes that change rapidly. One-off surveys can capture the situation at one point in time but fail to capture the transition and the volatility. Fortunately, the Corner Shop research can bridge this knowledge gap.
This blog is an introduction to the Corner Shop Diaries project, the first of a series that will be published regularly this year. We will also publish regular data-based insights on our website, and combine these insights with actionable recommendations for policymakers and practitioners.
This series will touch upon different themes, including the adoption of digital payments and e-commerce by micro-businesses, savings and loan products that they need, and their behavioral changes over time. Be sure to stay updated for more insights from us.