Macroeconomic differences and similarities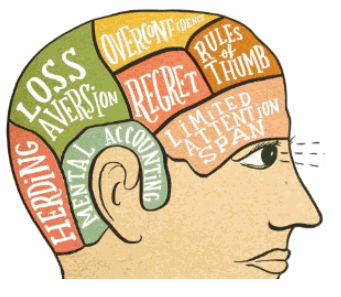 Source: Link
"We see the potential volume, but do we design profitable products for low-and moderate-income (LMI) people?". MSC faces this question repeatedly in discussions with our clients across Asia and Africa – including our partners in Bangladesh and Vietnam under the MetLife Foundation-funded i3 program.
In these two blogs, we answer this question – Irrespective of the country you are in, these are key behavioral biases to keep in mind to create compelling, engaging, and profitable products for the mass market.
Worldwide, behavioral biases shape the needs, aspirations, and behaviors of people from low- and moderate-income (LMI) segments. These biases play a vital role in how people from these segments perceive, accept, and use financial products and services. This two-blog series covers Bangladesh and Vietnam. The first part highlights the macroeconomic and demographic differences and remarkable similarities between the two countries. The second part delves into the behavioral biases of the LMI segments which financial service providers (FSPs) need to keep in mind when designing products for them.  Even though there are macro-level differences between these countries, their LMI segments show deep commonalities in behavioral biases toward financial services.
As part of the i3 program, MSC supports different stakeholders, including banks, FinTechs, microfinance institutions, wallet providers, and government departments in Bangladesh and Vietnam. MSC's support helps these stakeholders understand and serve the needs and aspirations of the LMI segments and move them toward better financial health.
Let us start with the macro-economic and demographic data of these countries, highlighted in the graphs below.
Source: The World Bank Data—https://data.worldbank.org/
Demographics
With 165 million people, Bangladesh is around 70% more populous than Vietnam. In Bangladesh, the population density is five times that of Vietnam. However, close to 60% of their population lives in rural areas. Most of the migration to the cities happens because of unemployment and education.
Both the countries fare equally well on life expectancy—Bangladesh has a life expectancy of 73.6 years. In contrast, Vietnam has a life expectancy of 75.8 years. Bangladesh is a slightly younger country, with a median age of about 27 years compared to 32 years in Vietnam. While leading economies like Europe, the US, South Korea, and Japan are aging, Bangladesh and Vietnam have the advantage of a young working population. This demographic dividend offers a distinctive edge for the GDP of these countries in the future.
Fifty percent of the population of both countries comprises women, many of whom who want to work. For example, Bangladesh's readymade garment (RMG) sector employs nearly 4 million people, mainly from the LMI segment, 60% of whom are women. Also, see this webinar on "Successful cash support payments to the most vulnerable: Lessons from Bangladesh" for an overview of the RMG sector's contribution.
Macroeconomic indicators
Both the countries have grown at a healthy GDP rate of greater than 5% over the past 10 years. However, the GDP per capita of Vietnam (at USD 2,785) is about 50% more than that of Bangladesh (at USD 1,961). High population and low GDP per capita translate into more people living below the poverty line in Bangladesh. The poverty headcount ratio at USD 1.90 a day (2011 PPP) as a percentage of the population in Bangladesh is 14.5% compared to Vietnam, which is at 1.9% as per 2016 data. Over the past decade, poverty in Bangladesh has been relatively higher than that in Vietnam.
Both countries have a large population from the LMI category (83% in Vietnam and 61% in Bangladesh), earning about USD 2–10 per day. The public and private sectors understand the potential of this segment, which is evident from the success stories of the likes of bKash and MoMo.
Unemployment continues to persist in both countries. The unemployed labor force in Bangladesh is about twice that of Vietnam. As of 2019, Bangladesh's unemployment rate was 4.19%, while Vietnam's was 2.04%.
Here, the role of micro, small, and medium enterprises (MSMEs) is essential. Bangladesh has about 6.9 million micro-enterprises, while Vietnam has about 5.5 million micro-enterprises. These smaller enterprises are job-creating engines. They employ 1–3 people each in both countries, providing employment opportunities. When we focus on small and medium enterprises (SMEs), Bangladesh has 900,000 SMEs, which is considerably more than 124,680 SMEs in Vietnam. These SMEs are the backbone of the economies of Bangladesh and Vietnam.
Lately, innovation around serving these micro-enterprises has increased. Startups offer exciting solutions that benefit these micro-enterprises around credit, e-commerce, SaaS, book-keeping, skilling, providing market linkages, etc. These solutions are expected to increase the revenues of the micro-enterprises and help them create more jobs.
Digital financial services
Mobile phone ownership in both countries is relatively high—141 in Vietnam and 101 in Bangladesh (per 100 people). However, smartphone penetration (of 2020) in Vietnam at 63.1% is way ahead of Bangladesh at 32.4%.
As of 2020, the percentage of internet users in Vietnam (77.4%) is higher than in Bangladesh (70.5%). This internet penetration is equal or better compared to the world population (65.9%).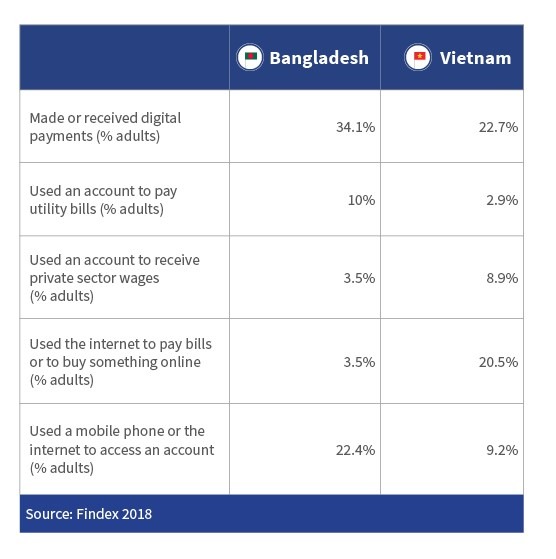 The table shows comparative data on digital payments in both countries. While Vietnam uses the internet for payments, P2P payments are most common in Bangladesh. In part because of a history of over-the-counter transactions, prominent players in Bangladesh, such as bKash, struggle to diversify from traditional use-cases of CICO (cash-in and cash-out) or P2P. In contrast, wallets such as MoMo have successfully convinced consumers to adopt more use-cases in Vietnam, though there is still scope to increase the volume, value and diverity of digital payments.
The governments of both countries continue to take the proactive steps, as so these Findex numbers are expected to rise in the coming years. For example, Bangladesh's government has been working on transformational  initiatives, such as the Parichoy e-KYC platform, BNDA interoperability project, and Startup Bangladesh. Vietnam's government has set a goal to create firm foundations for a comprehensive digital transformation in 2021–2030. In June 2020, Vietnam approved the National Digital Transformation Program by 2025 to create a digital government, digital economy, and digital society while establishing competitive digital businesses globally. The Vietnamese government also approved a regulatory sandbox for FinTechs in September 2021 to foster innovation.
Both countries have been innovative in their drive for digital financial inclusion. But, as with most other countries around the world, they have a long journey ahead to make their LMI citizens financially healthy. However, with all these differences, the needs, aspirations and behavioral biases of LMI people are very similar in both countries.
Please tune in for our next blog, where we explain the key biases that complicate and facilitate the design of financial services in Bangladesh, in Vietnam and across the globe.