IPPB's customer base grew from 23.6 million to 43.1 million in 2020/21.
"Dakiya daak laya, dakiya bank laaya" ("The postal worker brings us letters, they also bring us the bank"), sings Anupama, daughter of IPPB end-user Anuj, who sits chatting with a customer who wants to open a bank account. In a few moments, Anuj creates a new bank account—adding to one among the 30-odd accounts the postal bank opens each minute across India's borders.
Forty-year-old Anuj lives in Kakori village in the Indian state of Uttar Pradesh, where he works for the Department of Posts (DoP) as a Grameen Dak Sevak (GDS) or Dakiya—a term of endearment for postal workers across large parts of the country. Anuj recently took up the responsibilities of a IPPB banking correspondent (IPPB BC), to his family's delight. As aBC for IPPB, Anuj joins the ranks of thousands of GDS who contribute to IPPB's rapid expansion at the last mile, fortifying the digital revolution brewing in India's hinterlands.
Anuj joined the DoP after completing his senior secondary education. His compassionate nature soon helped him build a strong connection with the villagers. Besides delivering mail, at their request, Anuj often reads letters to older adults who await messages from their children who live in distant cities.
He also played another important role. All GDSs also help people open savings accounts with the post office, invest in long-term savings products, such as Sukanya Samriddhi Yojana (SSY) or Public Provident Fund (PPF), and thus introduce them to formal banking services.
Anuj often thought about how to reduce the inconvenience of Direct Benefit Transfer (DBT) beneficiaries when they had to travel long distances to withdraw cash. He believed assisted financial transactions at the customers' doorstep or near it could help reduce the financial vulnerability of the elderly and the poor in his village. Anuj saw his dream come true when the India Post Payments Bank (IPPB) was created in 2018. IPPB offered him, along with other 189,000 GDSs across the country, a chance to join the Indian digital revolution by becoming IPPB banking correspondent.
Grameen dak sevaks hold the baton of inclusive banking
According to its FY 20-21 annual report, IPPB's customer base grew by 83% that year, from 23.6 million to 43.1 million. To put this in perspective, IPPB opened an account almost every two seconds.
With the exponential growth of banking services and continued growing demand, GDSs have become critical to the delivery of inclusive banking in rural India. A GDS has multiple functions and has to learn new functional and technical skills to provide safe and secure digital banking services. This is easier said than done.
A Grameen Dak Sevak's life as IPPB banking correspondent
When IPPB was institutionalized, many GDS sensed an opportunity and took up the role of banking correspondent to earn an extra income. Meanwhile, others found it challenging. While their job profile expanded, their responsibilities increased as well.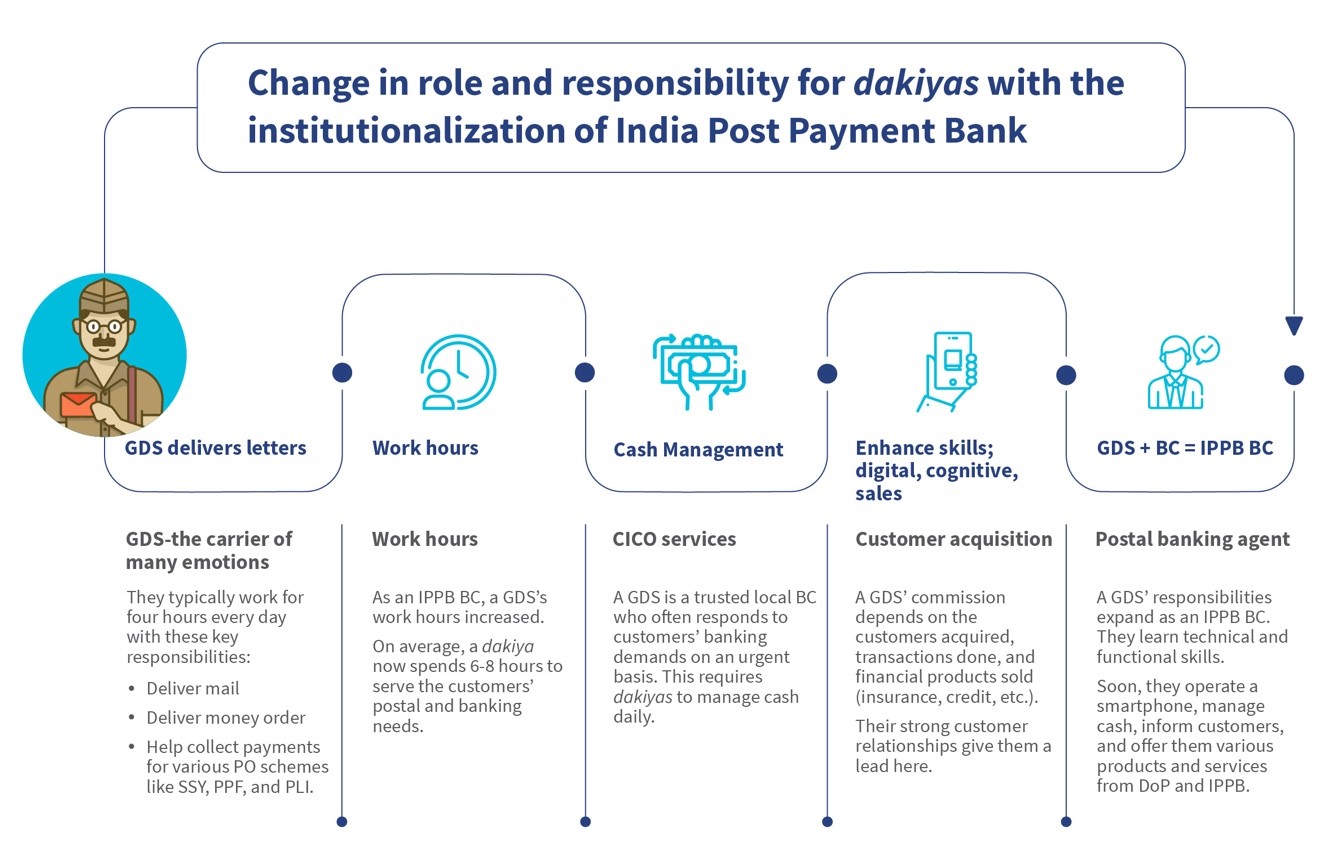 If a GDS chooses to work as an IPPB BC, they must gain technical knowledge of banking products, build cognitive skills to understand technology interfaces and devices, and develop business acumen to drive sales. Further, they attend classroom-based training by IPPB to qualify as banking correspondents. GDSs also attend external training mandated by the UIDAI to become eligible to offer Aadhaar-based, high-revenue products, such as the Child Enrolment Lite Client (CELC).
The enhanced role of the GDSs as IPPB BCs benefits them in multiple ways, including social recognition and additional income. For women, female banking agents further provide a safe space for banking. GDSs' relationships with people in their neighborhood create a trusted path to onboard new customers onto digital banking. The graphic below highlights how a GDS can benefit from the role as an IPPB BC.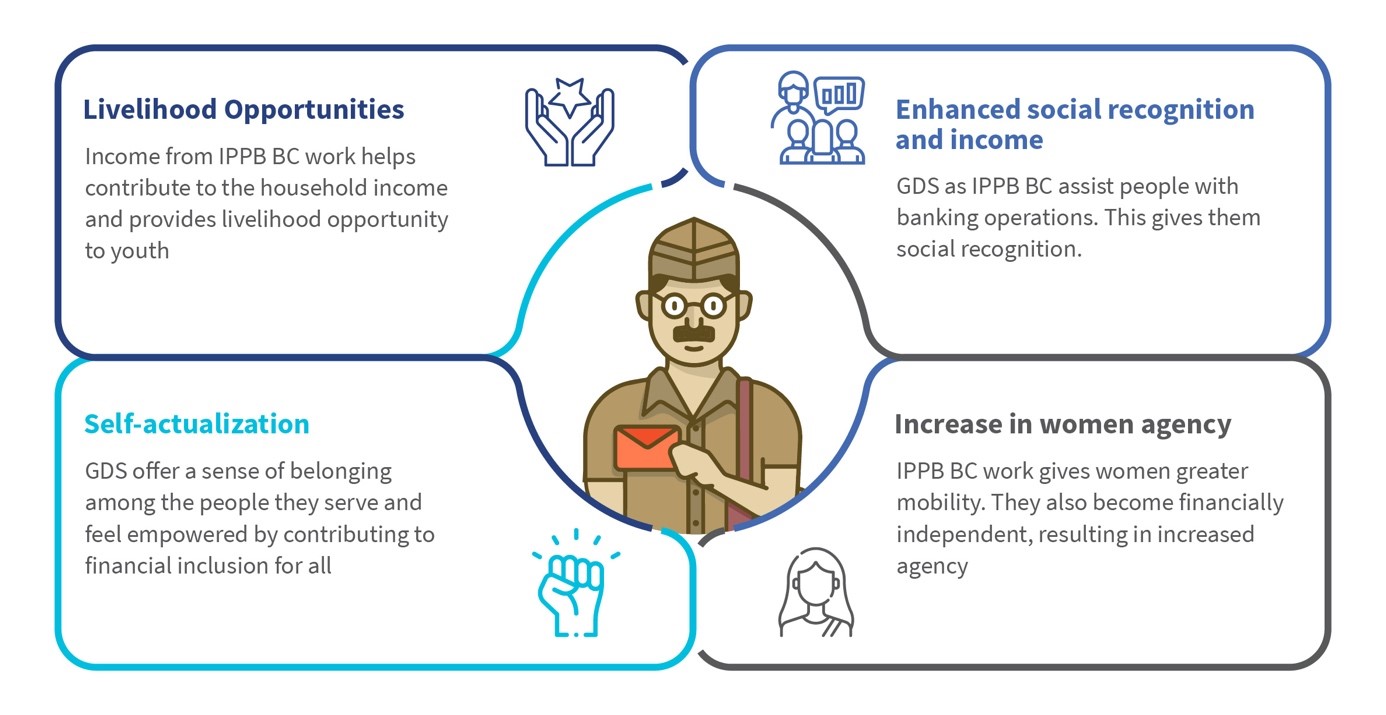 Different personas of GDS and their distinct needs
Several factors determine how easily a GDS can adapt to the postal agent's role. These factors may be intrinsic, such as social recognition and empathy, or extrinsic, such as technical skills and support from the DoP.
We explore three dakiya personas—desirers, aspirers, and dormants, to understand how this expansion of their role into  an IPPB banking correspondent has affected them and their feelings about their role as BCs.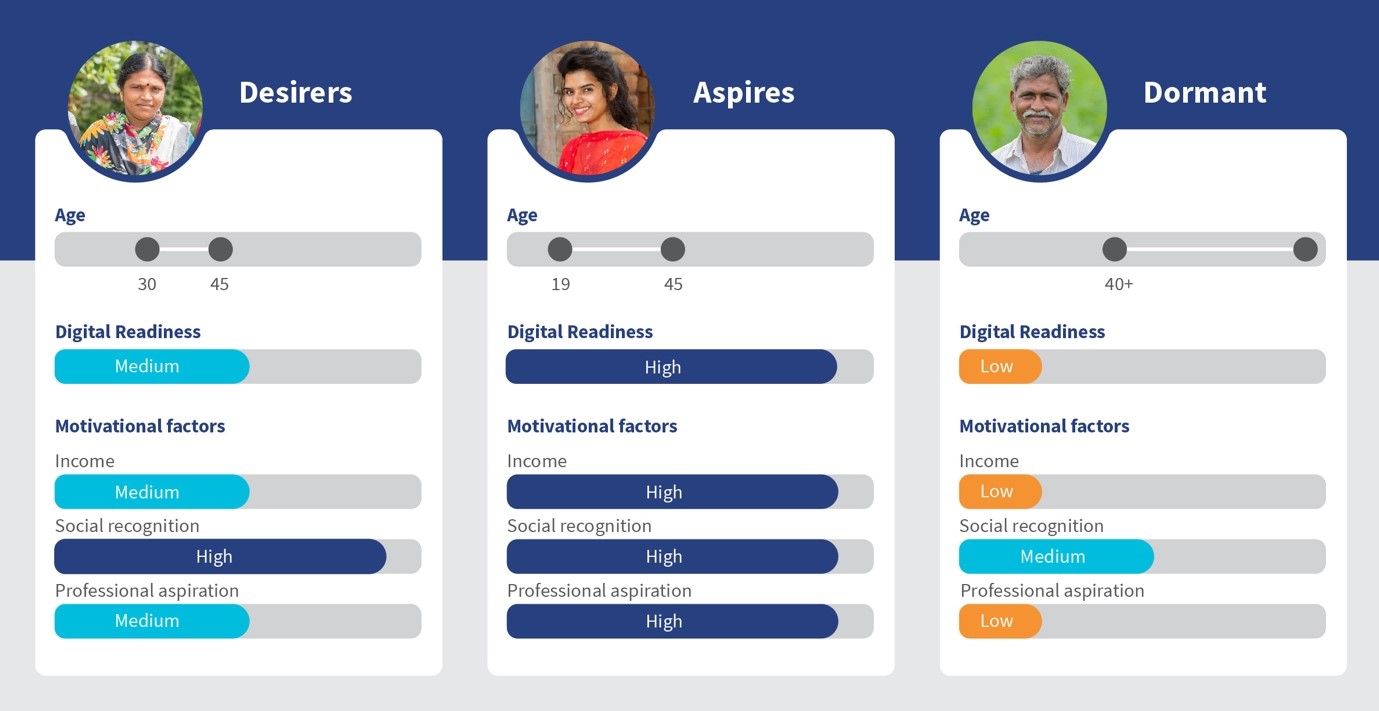 Desirers feel the IPPB banking correspondent opportunity empowers them: Desirers form a long-term relationship with IPPB. They are typically 30-45-year-old men and women from low- and middle-income (LMI) households. They have limited technical abilities and cognitive skills. Social recognition and enhanced income motivate them to work as agents. They struggle to operate micro-ATM devices, retain financial product information, or manage liquidity.
Yet the desirers' spirit to work as change agents allows them to succeed. A true inspiration, these IPPB BCs have adapted to their enhanced role from postal deliveries to leading financial inclusion gracefully. IPPB and the DoP have launched successful initiatives to support the GDS with their enhanced role and responsibility:
The DoP and IPPB launched dak karmayogi, an e-learning platform for GDSs to enhance their product knowledge and hence their commission income through higher sales. This will also enhance IPPB's revenue—a win-win situation for all.
With support from MSC, IPPB launched bite-sized refresher training modules delivered digitally to the GDS. These modules act as ready reckoners for them.
Aspirers see the IPPB banking correspondent opportunity as a catalyst to their professional aspirations: Typically, Aspirers are highly motivated individuals like Anuj, who work as banking correspondents. They are extroverted younger people who like helping others. Moreover, they draw motivation from their ability to offer banking services to customers in their region. Many young GDSs also became postal bank agents to enhance their financial knowledge and supplement their skill set to become eligible for higher-level jobs. Further, high-incentive products, such as CELC, insurance, and bill payments motivate them to perform better and increase their income.
IPPB needs a mix of aspirers and desirers to build a strong foundation of on-field BCs and make the payments bank profitable.
Dormant are influenced by status-quo bias and need strong social proofing to adapt to the role of IPPB banking correspondent: The dormant is often a GDS who does not depend much on the role as a BC for their livelihood. They are typically 40+ year adults from relatively higher income backgrounds. Dormant has low motivation to work as banking correspondents and do not actively support digital banking services. They do, however, have great relationships in the village, and are influencers to many in their neighborhood. Initiatives that build social proof, such as recognition ceremonies, can motivate skeptics to spread banking information among their groups.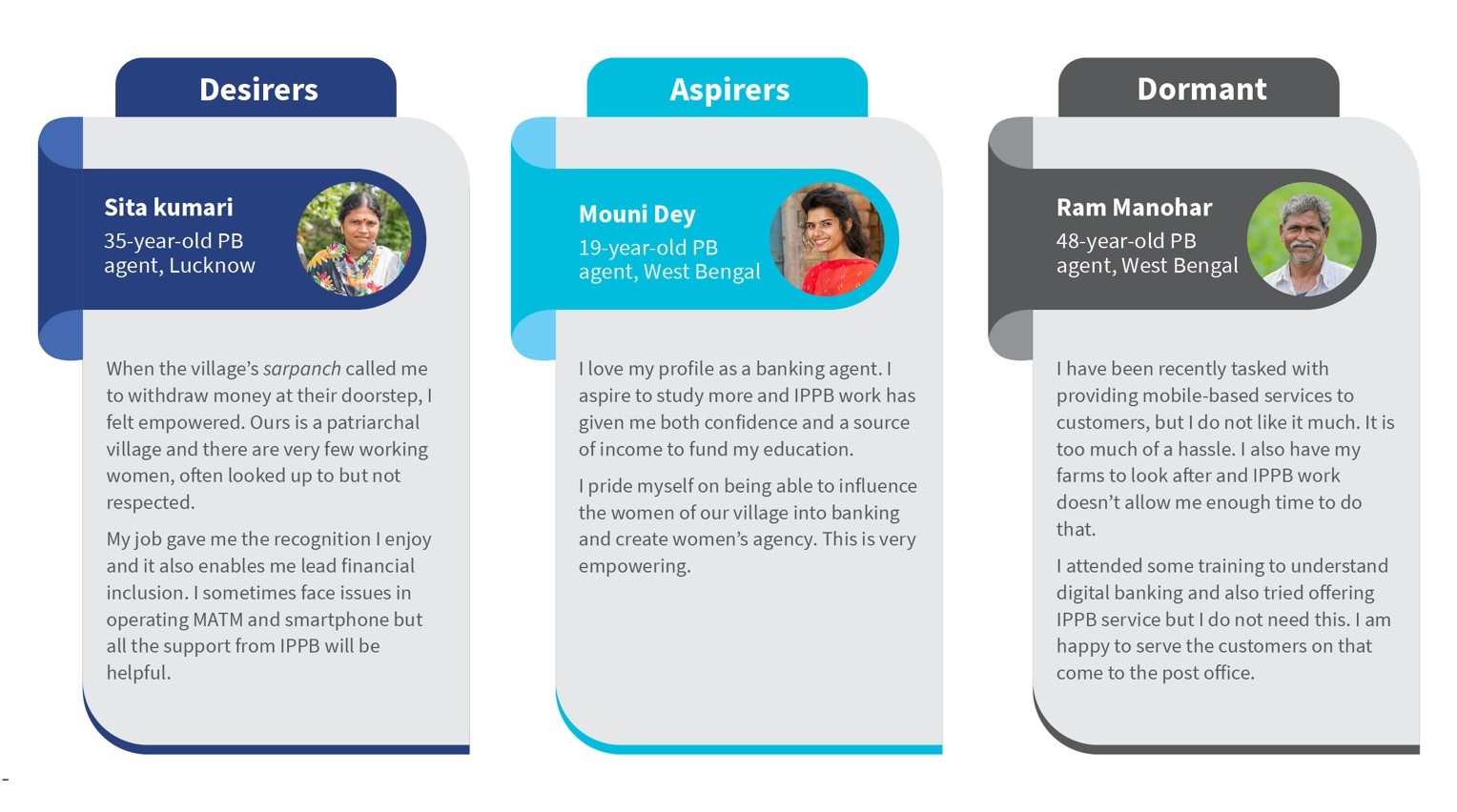 Looking ahead
The Indian postal system expects a lot from its GDSs, and many GDSs often struggle to offer financial services. Yet they have risen to the challenges and are now eager to help underserved customers in India's towns and villages – and fulfill their aspirations by doing so. We need to enable and empower them to reach millions more who seek financial services in an environment they trust and consider safe.